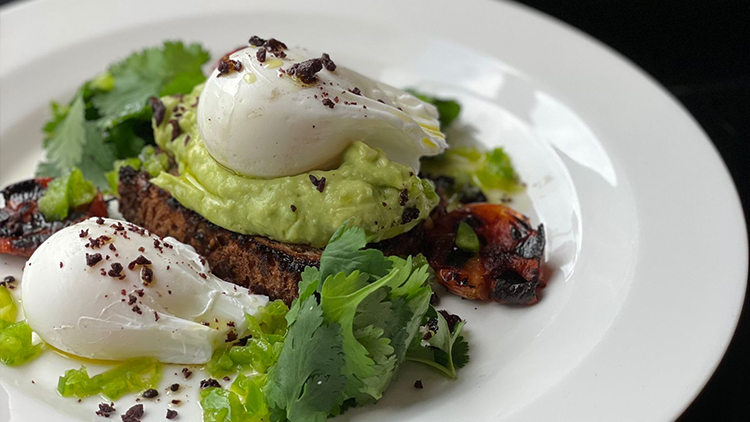 CAFÉ 99 – Our new breakfast menu comes with hypnotic sea views
Prestigious Dan Hotel Tel Aviv has a new breakfast menu in its chic Café 99 restaurant. Café 99 also welcomes the public, with a fantastic Israeli breakfast integrating a boulangerie bar and patisserie under the direction of Chef Oved Alafia. Café 99 will soon be offering a rich original menu for lunches and dinners. Enjoy the restaurant's pastoral romantic atmosphere as you relax with the blue of sea and sky.
Café 99 is joining the breakfast trend sweeping through Tel Aviv. Looking for the perfect place for a quality, rich breakfast? Come and enjoy our exciting culinary experience. You'll find Café 99 in the renowned Dan Hotel right on the seafront, giving you a breathtaking view of the Mediterranean.
Buffet and Boulangerie Bar Rich Original Menu
Café Restaurant 99 offers a rich, varied contemporary menu. Enjoy Dan Hotel's famous Israeli breakfast integrated with unique dishes from the eclectic kitchen. Chef Oved Alafia has not only led Dan Hotel Tel Aviv for 20 years but is also the chef at Yarkon 99, the excellent kosher Chef's Restaurant in the hotel.
Café 99 guests can enjoy the buffet and a selection of freshly baked bread straight from the oven, heaped trays of boutique cheeses, beloved dishes like tzatziki, char roasted aubergine with tehina from Har Bracha, and many additional surprises. 
The original menu contains starters and salads served as a table centerpiece and an abundance of main courses and beverages. Among them, you'll find flagship dishes made from the freshest local ingredients carefully chosen for their top quality. Choose breakfast options such as Iraqi green fritters in tzatziki, called "uroug," a very rich Caesar salad, Eggs Benedict with salmon, hollandaise sauce and muffins, an array of omelettes, Jerusalem artichoke with poached eggs, Brie in hollandaise, and much more.
Café 99 has a varied beverages list including hot and cold drinks, different types of coffee, delicious cocktails with or without alcohol, quality wines, and juices freshly squeezed on site.