Dan Hotels offers you two hotels in Haifa. Perfectly located for a relaxed, carefree vacation on the cusp of Mount Carmel, our Haifa hotels are packed with character each with breathtaking views, where the Mediterranean Sea meets the Carmel.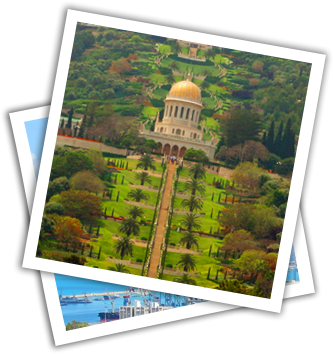 About Haifa hotels
Haifa and Haifa hotels welcome you with scenic vistas, terraced hillsides and enthralling places of interest. Crowning the richly wooded hills of Mount Carmel, the beauty of Haifa is a constant delight to inhabitants and visitors alike.
The city covers verdant terraces sloping down to a wide curving bay edged by sandy beaches and promenades, ideal for picturesque strolls. Renowned for its rich biblical history, Haifa has a profusion of mosques, churches and holy sites worth visiting. Haifa hotels are plentiful and located on both the City's upper and lower sections and while its museums are spread throughout the city focusing on subjects as diverse as Far Eastern art and maritime history. Haifa is also home to the renowned Hanging Gardens of the Baha'i Temple, regarded by many as "the eighth wonder of the world". Unmatched for botanical harmony, they cover the slopes of Mount Carmel. To experience their magic, tourists can simply walk along the panoramic Louis Promenade from the Dan Carmel Hotel to the Dan Panorama Hotel down to the restored historic quarter called the German Colony. For the active tourist, Haifa hotels invite visitors to explore the city's fascinating topography by following a variety of stairways running from the Carmel ridge to the sea. As for nature lovers, the Carmel National Park's 22,000 acres of natural woodland constitute a spectacular introduction to the indigenous forests that covered the region in biblical times. Haifa is also known as the Pearl of the North, and its hotels provide a perfect take-off point to the rolling hills and history of the Galilee. A fifteen minute drive along the coastline, takes you to the walled Crusader town of Acre; continuing further north along the Mediterranean will bring you to the wave-sculpted grottos of Rosh Hanikra. Inland from Haifa, Druze villages, the Sea of Galilee, Nazareth, Safed and Tiberias, are an easy drive away.