Dan Hotels offers you three hotels in Eilat, Israel's vibrant southernmost city. Experience the delights of the Red Sea coral reefs, while staying in unrivaled luxury at one of the three Dan Hotels in Eilat.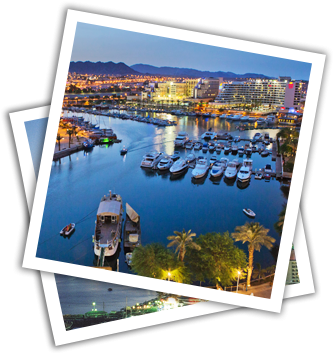 About Eilat Hotels
Eilat is Israel's premier resort. Stretching along Israel's Red Sea coast, Eilat hotels are located nearby gorgeous beaches like the Coral Reef – rumored to be one of the Red Sea's finest.
Eilat, a cosmopolitan city geared for fun, in addition to the varied and plentiful nightlife featured by its hotels, also brims with cafes, restaurants, and bars to suit every palate and any purse. As a vacation paradise with year round sunshine, the shortest winter and hardly any rain, Israel's Eilat hotels are practically temples for tourism seeking a super casual, super active and totally laid-back lifestyle! Days not spent diving, can include a dip in the pool followed by a long sunbathing session or a visit to Eilat's Dan Hotel in-house spa where the treatments provided by skilled professionals will leave you totally rejuvenated. For the active holiday maker, Eilat hotels offer every class of water sports: windsurfing, kite surfing and water skiing. You can also churn up foam in a speed-boat, or peacefully drift off in one of the sail boats doting the tranquil waters of the Red Sea - all you have to do is choose. Nature lovers may enjoy the thrill of exploring the Red Sea's underwater world through Eilat's fascinating and sophisticated underwater observatory, a ride on one of Eilat's new-generation glass-bottomed boats, a dive with dolphins at the Dolphin Reef; or join desert safaris to Bedouin encampments.
Eilat's Dan hotels
The Dan Eilat Red Sea Hotel was recently voted one of the top ten hotels in the Mediterranean and Africa by the prestigious publication Condé Nast Traveler. The Dan Eilat Hotel is a self-contained vacation paradise, blending luxury and style with fun, informality, and round-the-clock activities. Located in a spectacular beachfront setting on the magical Red Sea, the Dan Eilat Hotel offers guests everything they can imagine and more. Ready to welcome you are dramatic public areas with special light effects, superb guestrooms and suites offering Red Sea-view balconies and state-of-the-art amenities. Guests staying in executive rooms, terrace rooms or suites benefit from complimentary access to the Executive Lounge, offering snacks and drinks throughout the day.
The Dan Panorama Hotel Eilat has been created with our guests in mind. Ideal for a vacation that blends sun and fun with Eilat's spectacular natural attractions, the Dan Panorama Eilat Hotel is splendidly located overlooking a tranquil marina where sailboats anchor
The Neptune Eilat Hotel Ideally located in the central section of Eilat's famous promenade, Neptune Eilat Hotel offers great value for money for families or couples looking for a particularly memorable vacation. Delight at the Red Sea views that lend inspiration to the hotels design palette. Among the facilities, you'll find three pools, an extensive gym, sauna and much more. The "Panorama" restaurant enables guests to choose from a wide selection of dishes and flavors from around the world.
Other attractions in Eilat
A wildlife nature park where rarely-seen desert creatures roam; the canyons of King Solomon¹s mines; and once the sun goes down and the twinkling lights come on, a stroll by the shores of the Red Sea from your Eilat hotel along the Northern promenade will give you a gorgeous view of the mountains turning red and purple and the water changing colors to match.
Visit our page Attractions in Eilat and read about everything you must do in the city.