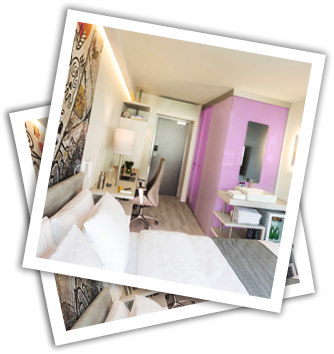 Link hotel & hub Overview
A young and fresh guest experience that offers a superior value proposition at affordable rates.
Strategically located on Tel Aviv's King Saul Avenue, the LINK hotel & hub incorporates comfort, technology, and a relaxed ambience where guests can socialize and mingle. To help arriving guests get quickly to their rooms with a minimum of fuss, The LINK has eliminated many procedures typical of traditional hotels: no cash transactions, no reception desk, no bellboys and no concierge. The helpful multi-tasking 24/7 Service Crew operates on an "Everyone does everything" basis. The hotel offers different sized guestrooms with a 55-inch smart TV - much bigger than in most hotels, luxury beds and linen, rain shower, and adjustable lighting to suit the mood. A distinctive feature of the hotel is the way internationally-acclaimed photographer Daniel Siboni has curated and displayed Tel Aviv's Street Art throughout the hotel.
Using their mobile phones, guests can download the innovative and comprehensive LinkApp that enables check in, check out, and unlocking the guestroom door. LinkApp serves as the house phone, for making free calls anywhere in Israel, and for controlling in-room functions such as the TV, the air-conditioning, and adjusting the color and intensity of the light settings. LinkApp is also a virtual concierge that helps guests explore everything Tel Aviv has to offer: entertainment, dining, shopping, nightlife, culture, and transportation to the airport, Jerusalem and elsewhere.
* App is currently under development and is being deployed gradually during 2019.
Based on the shared workspace concept to be found in cities all over the world, the Hub floor is a dedicated space where guests can work, meet, play, relax, eat, drink, and also be alone while in the company of others. There are common worktables, Kitchen&Bar open 'til late', plenty of private meeting rooms of different sizes, a pool table, and board and video games. The spacious Gym Area has a fully-equipped Precor gym. The utility area has personal storage lockers, self-service laundry facilities.
Not under the supervision of chief Rabbinate.
Hotel does not have a Shabbat elevator.
Selection of 8 different Tel-Aviv café-style breakfasts (06:30-11:00am)
All-day meatless menu, open till midnight.
Order throughout Link App (coming soon) or at the counter + pick up
Bar with spirits and cocktails.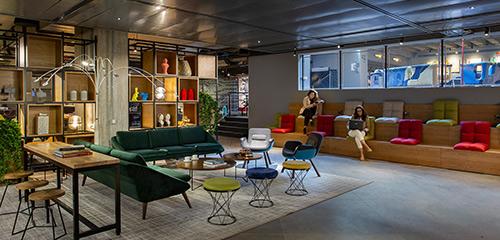 Relax and be alone or play and enjoy the company of others, all under one roof.
Work in our common space or have a meeting in one of our private meeting rooms.
Kitchen & bar is open from breakfast till midnight for light meals and drinks.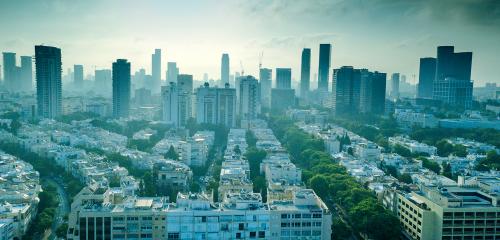 Short walk to the city's dining, entertainment, shopping, cultural and business areas.
On the doorstep of the vibrant nightlife of "the city that never sleeps."
Close to new fast rail connection to airport, Jerusalem and Haifa.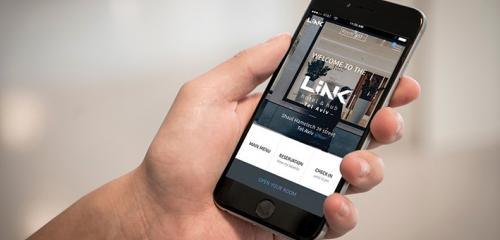 Use your smartphones to check-in, open your room, check out & much more.
App is currently under development and is being deployed gradually during 2019.
Serves as a virtual concierge for everything that Tel Aviv has to offer.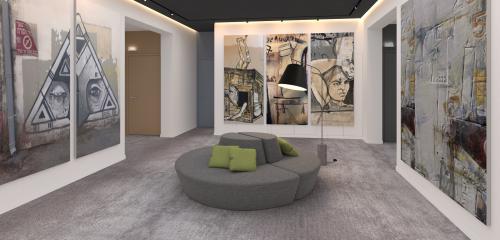 Tel Aviv's thriving Street Art scene displayed throughout the hotel.
Each floor features a different contemporary Tel Aviv street artist.
Curated by photographer Daniel Siboni, winner of lifetime achievement award at Cannes Film Festival.
Link hotel & hub
39 Shaul Hamelech Av.
Tel Aviv, 6492807
Hotel Information
Check in & out with
the Link App.
payment by App
or credit card only.
Non-Smoking
The Hotel has a
Non-Smoking policy.
There is a designated
place for smoking.
Parking
Private Parking
Parking available at an additional fee, entrance through 8Th Daphna St.
pets
Pets are more than
welcome to the Link,
especially dogs.