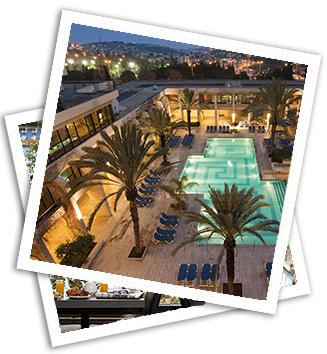 Dan Jerusalem Overview
Designed around a series of beautiful patios, the Dan Jerusalem Hotel sits on the historic slopes of Mount Scopus, overlooking the famous Jerusalem skyline and the rolling Judean Hills. Located in a tranquil setting away from the bustle of the city centre, the hotel is close to the Mount Scopus campus of the Hebrew University of Jerusalem and the world-famous Hadassah Medical Center.
The Dan Jerusalem Hotel features a selection of gourmet restaurants and a bar which complement over 500 beautifully appointed guestrooms and suites, and spacious public areas. There is also a heated indoor pool, and a fully equipped spa offering a wide range of health and beauty facilities.
With its choice of indoor and outdoor venues for meetings, conferences and seminars, this is an ideal hotel for small or large events and family celebrations.
All of Dan's Jerusalem hotels are ideally located - The Dan Jerusalem Hotel is located minutes from the Jerusalem Light Rail that will take you swiftly to the city center and on to the Old City. The picturesque walled city, with a history that dates back over 3000 years, is filled with sacred sites for Jews, Christians and Muslims, as well as stunning archaeological remains.
The Dan Jerusalem Hotel is the perfect departure point for a 30-minute drive through the Judean Desert to the shores of the Dead Sea, the lowest point on earth. Float on the salt-rich water and coat yourself with healing black mud. Visit the famous Qumran Caves in which the Dead Sea Scrolls were found, or explore the mountain fortress of Masada.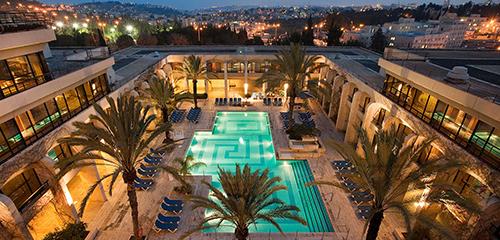 Perched on the historic slopes of Mount Scopus, surrounded by the rolling Judean Hills
View the breathtaking vistas of Jerusalem
Within walking distance of Jerusalem's Light Rail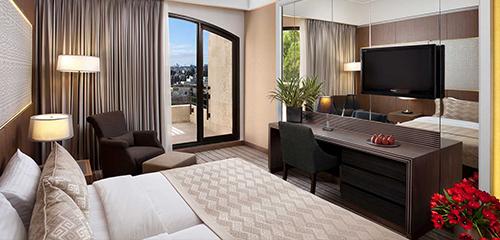 Classic design, elegant tones
Spacious and comfortable guestrooms and suites
Relaxing public areas and facilities

Large outdoor pool and heated indoor pool (in season)
Fully equipped luxury spa, gym and Turkish Hammam bath
Choice of spa treatments inspired by the east and west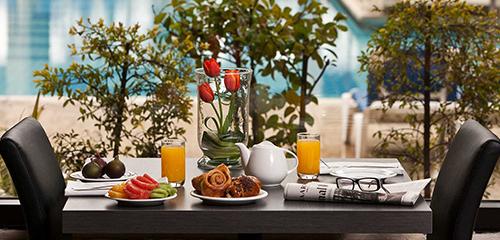 Outstanding restaurants offering delicious culinary experiences
Sumptuous Israeli breakfast
Dynamic lobby bar serving cocktails, drinks and a variety of snacks
Dan Jerusalem
32 Lehi St.
Jerusalem, 97856
Hotel Information
On Saturdays & final
day of Jewish holidays,
Check-In from 17:00
Non-Smoking
The Hotel has a 
Non-Smoking Policy. 
There is a designated
place for smoking.
Parking
Private Parking
Free limited parking
(subject to availability)
pets
Service dogs allowed: Yes
Guide & rescue dogs: Yes 
Pets allowed: No