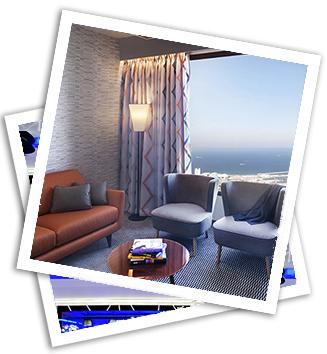 Hotel Dan Panorama Haifa
Contemporary in style and young in spirit, the Dan Panorama Haifa hotel rises twenty-one stories above historic Mount Carmel, the scene of the famous biblical confrontation between the Prophet Elijah and the idol-worshippers.
The views from this perfect Haifa hotel are simply spectacular. In one direction, you have a splendid panorama of the city of Haifa, Mount Carmel and the sea. Another vantage point presents the huge curve of Haifa Bay and the endless stretches of Israel's beautiful Mediterranean coastline.
The renovated guestrooms and suites sport an elegant and sophisticated décor, while the public areas are ideal for relaxing. The pool area offers great views, and there is also a fitness center with sauna
The hotel adjoins the city's upscale Panorama Mall with its fine boutiques, elegant cafes and entertainment venues. Guests can stroll along the panoramic Louis Promenade to the restored historic German Colony. Close by are the outdoor coffee bars and stores of the bustling Carmel Center, a favorite gathering place for visitors and locals.
Like all Dan hotels in Haifa, The hotel is the perfect departure point for exploring the charm and natural beauty of Haifa, including the renowned Hanging Gardens of the Baha'i Temple, informally regarded as "the eighth wonder of the world". Further afield are historic Acre, biblical Nazareth and the Sea of Galilee, while business guests are within easy access of the region's technology centers and industrial facilities.
Designed for the young at heart, the informal, easy-going ambiance of the Dan Panorama Haifa invites you to relax and feel at home.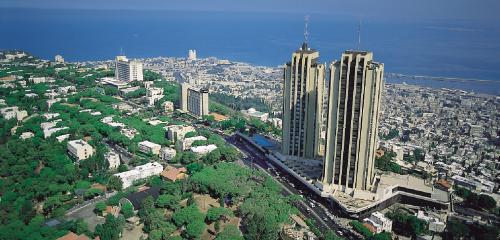 360° Panoramic views of the Mediterranean Sea and Mount Carmel
Overlooking the city of Haifa
Breathtaking view of Galilee and Golan landscapes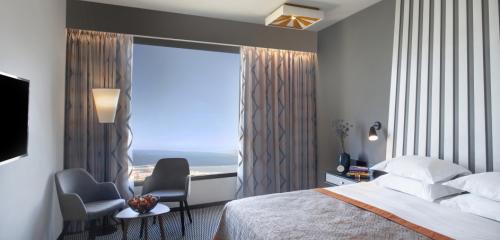 Elegant and sophisticated decor
Refurbished and renovated rooms and suites
Beautifully appointed public areas and facilities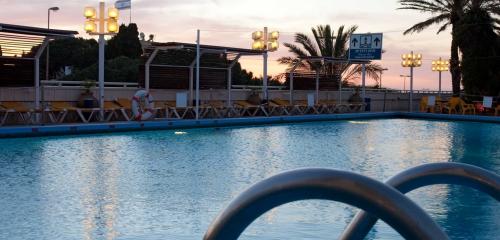 Large relaxing pool for fun or exercise
Childrens' pool
The biggest fitness center in the north of Israel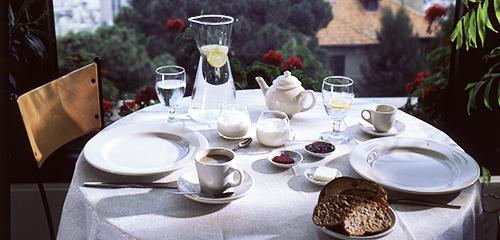 Excellent hotel restaurants including rich Israeli breakfast
Great selection of local wines, fine alcoholic beverages
Wide variety of restaurants in close proximity
Dan Panorama Haifa
107 Hanassi Av.
Haifa, 34632
Hotel Information
On Saturdays & final
day of Jewish holidays,
Check-In from 17:00
Non-Smoking
The Hotel has a 
Non-Smoking Policy. 
There is a designated
place for smoking.

Parking
Private Parking
(additional fee)
pets
Service dogs allowed: Yes
Guide & rescue dogs: Yes 
Pets allowed: No