Dan Hotel Chain has two hotels in northern Israel, Ruth Hotel in Safed, and Maayan Hotel in Nazareth.
Israel's northern region is marked by clear mountain air and green expanses which invite you, body and mind, to relax from life's pressures. Take some time out with the kids to discover the springs and creeks. Don't forget to enjoy an indulgent spa in the Dan chain's hotels. And don't be surprised if, after that, you won't want to return to routine!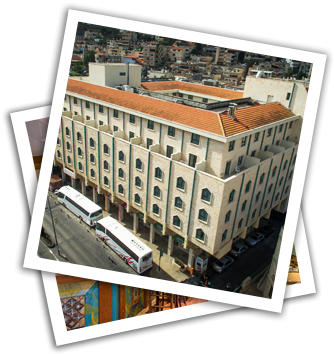 About North Hotels
Holidays in northern Israel
Northern Israel is undoubtedly the greenest, lushest area for trips and treks. Known for its two parts, Upper Galilee and Lower Galilee, both contain mountain peaks and flourishing valleys, gorgeous creeks, and cities with fascinating histories thousands of years old. The north and the Galilee draw thousands of weekend visitors enjoying the tourist sites, the historical and religious locations, and nature trails. The Dan Chain's two hotels invite you into the picturesque areas of Safed and Nazareth.
Cities in northern Israel
Safed and Nazareth have always been cities linked to Upper and Lower Galilee. ­Both offer richly historical and religious focal points, sanctuaries, fascinating architecture and captivating narratives at every turn along the way. Both holy cities, Safed and Nazareth, were established on the mountain side in order to control mountain passes, ensuring commercial connections in the region. Nowadays establishing cities high up the mountain slopes ensures that guests enjoy Galilee vistas of the kind that only hotels in northern Israel can offer.
The historical narratives of Galilean cities spread unbroken across thousands of years. Starting from Biblical times and the Second Temple period, through the Roman era, the Crusaders, the Mameluke and the Ottomans, the Galilee is where you find it all: from rebellions and wars to the birth of worldwide spiritual movements. The Galilee is where Christianity began, and where Jewish mystical traditions flourished, both spreading far and wide. Most of the New Testament's miracles took place in the Galilee and around Nazareth. Generations of mystical Rabbinic lineages developed in Safed, turning that city into a holy place and wellspring of Jewish spirituality for centuries. Stay in one of our northern Israel hotels, relax, and enjoy these cities' ancient and modern offerings in easy walks.
The blossoming Galilee
In addition to the cultural and historical elements unique to each city, the Galilean vistas are unrivaled for their lush greenery and beauty. Our hotels in the north, characterized by a calm boutique atmosphere, are starting points for countless walks and treks that will take your breath away. The Bria Forest offers multiple walking and biking trails with lookouts from Mount Canaan and Mount Meron. Wander the quaint lanes and streets of the old city quarter in Nazareth or Safed. Visit Yodfat, Tzippori and the Galilean Crusader fortresses… and so much more!