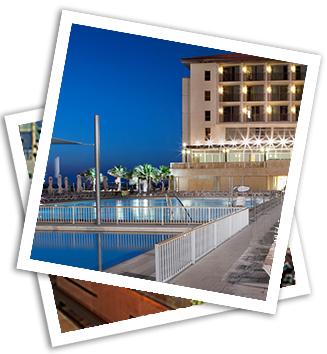 Dan Accadia overview
The Dan Accadia Hotel in Herzliya on the Sea, is renowned for being the Israeli hotel where guests return year after year. This serene enclave perched on a cliff directly overlooking the relaxing Mediterranean, is located on the seafront of the upscale town of Herzliya, home to many of the high-tech enterprises that have made Israel famous. A few steps down from the Dan Accadia Hotel's terrace, a path takes you to a tranquil and seemingly endless shoreline. Herzliya's sandy beaches are the perfect place to catch some sun or bathe in the warm waters of the Mediterranean sea. The Dan Accadia Hotel is in close proximity to the Herzliya Marina- the city's main entertainment hub. In 1995 the marina was declared an international port and is the biggest and most modern marina in the Mediterranean basin with an international seaport of 700 moorings. It hosts national and international sailing events and has many water sports activities. Around the marina you will find inviting restaurants and bars as well as boutique shops. There is also the Arena Mall which specializes in fashion and accessories. If you want to take it easy, the Dan Accadia Hotel is a self-contained resort, that invites you to indulge in a host of leisure-time activities without leaving the property.
Landscaped gardens enclose two swimming pools (one, a giant heated facility) with spacious wooden sundecks. This lovely resort also offers a spa, a health club and six tennis courts - floodlit for night play. As for sailing, diving and sea sports, simply stroll along the clean sandy beaches to the marina and it's all there waiting for you. For relaxation or touring, the Dan Accadia Hotel is the perfect location; cosmopolitan Tel Aviv is a twenty-minute drive away, while scenic Haifa, the historic Galilee and endless places of interest are all within easy reach.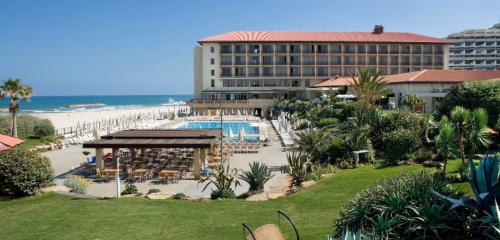 Beautiful Mediterranean resort overlooking the blue sea and white sandy beaches of Herzliya
Vast luscious grounds, creating the largest resort in the area
Beach promenade, with private access from the hotel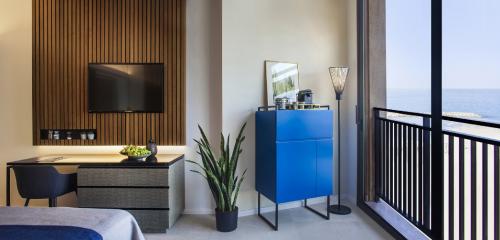 Designed in colors inspired by the hues of the sea
Rooms & Suites amidst natural beauty with stunning views of the coastline
Public areas and facilities with youthful, modern décor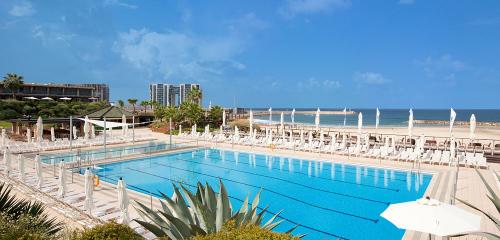 Large Swimming Pool & Spa
Large and pampering swimming pool with vast sitting area and sea view
Health club with indulging treatments inspired from the east and west
Fully equipped and advanced fitness center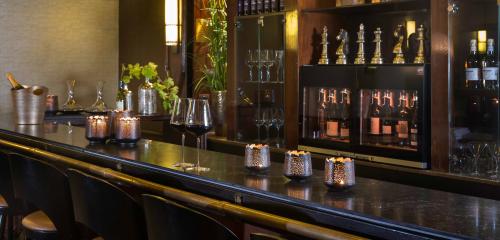 Guests are dazzled by the hotel's culinary variety including a rich Israeli breakfast
Variety of Herzliya restaurants offers delicious culinary experiences
New wine bar "Accad" offers superb selection of wines and delectable bites
Dan Accadia 
122 Ramot Yam St. Herzliya Beach
Herzliya, 46851
Hotel Information
On Saturdays & final
day of Jewish holidays,
Check-In from 17:00
Non-Smoking
The Hotel has a 
Non-Smoking Policy. 
There is a designated
place for smoking.
Parking
Private Parking
Additional fee
(subject to availability)
pets
Service dogs allowed: Yes
Guide & rescue dogs: Yes 
Pets allowed: No