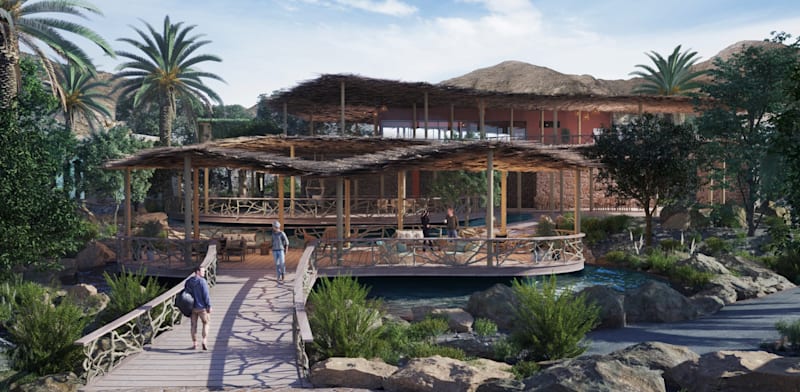 Luxury Tent Complex with Glamping will be built in Eilat in 2022
The Dan Hotels chain won a tender to build a luxury camping complex in Eilat. The camping site will also have a glamping complex and is expected to open in 2022. Total cost is expected to reach tens of millions of Israel Shekels. Read about the planned tent complex in Israel's vacation city.
The Dan Hotels chain, in cooperation with GO Events and Kenes Israel, won the Eilat Municipality and Eilat Economic Company tender to build a tent complex. The complex, that will include glamping tents, will be built on an area of 21,000 sq. meters and will offer a luxury desert oasis with a host of facilities and services. The complex will be built on Eilat's southern beach opposite the Coral Beach Nature Reserve. 
What is Glamping?
The word glamping is a portmanteau of the English words "glamorous" and "camping. A glamping experience means luxury tent accommodations in nature along with high-level hospitality and deluxe hotel-quality amenities. Glamping tents have electricity, air conditioning, comfortable beds and everything you need for a luxury vacation.  
Affordable Luxury
Dan Hotel's entry into the tent hospitality segment is significant news for those vacationing in Eilat. Accommodation prices are expected to be affordable for all vacationers and offer a luxurious hospitality experience. Dan Hotels CEO, Ronen Nissenbaum, said this about the hotel chain's entry into the glamping world in Eilat - "We believe in entering new hospitality segments and in a diverse work model. We are well aware that the Dan Hotels brand pulls us upward in the sense of luxury hotels such as the King David or Dan Acadia, but we strive to expand our activity to all hospitality levels".
What will the Dan Hotels Eilat Camping Complex Offer?
As mentioned, the Dan Hotels camping complex in Eilat is expected to be built on an area of 21,000 sq. meters and will include tents suitable for families and couples. The planned tents will offer a range of hospitality levels, with the glamping tents planned to have air conditioning and private pools.
The complex will also have an area for sports activities, a food complex with comfortable seating areas, therapeutic pools, a performance area, a water sports center and more.  
The Eilat tent complex joins the three Dan Hotels already operating in Eilat, which together create an impressive select group of hotels offering a perfect vacation in Israel's vacation city.  
Sustainability and Environmental Responsibility
The Dan Hotels tent project in Eilat will emphasize sustainability and environmental protection. Green building using natural raw materials is planned, with the entire complex defined as green.  Disposable plastic tableware will not be used.