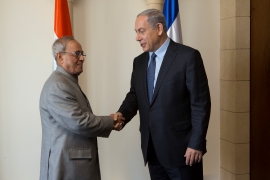 President of India in Israel
President of India, Pranab Mukherjee, meets with Prime Minister of Israel, Benjamin Netanyahu
During his visit to Israel, President of India, Pranab Mukherjee, meets with Prime Minister of Israel, Benjamin Netanyahu, over lunch at the Royal suit at the King David Hotel. 
The suite is famed for its unbeatable views over the old city of Jerusalem, at which the President marveled during his short visit in the hotel. 

We are very proud to have hosted the Indian PM, Mr. Pranab Mukherjee, at the King David Hotel. This is particularly timely as we are preparing to launch our new Den Hotel in Whitefield, Bangalore, India.