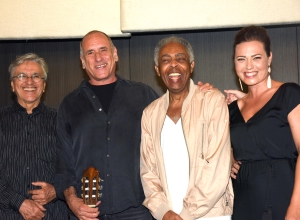 Caetano Veloso & Gilberto Gil at the Dan Tel Aviv
Two of Brazil's most charismatic singers and songwriters in Israel 
Caetano Veloso & Gilberto Gil arrived with their entourage at the Dan Tel Aviv Hotel, where they stayed 4 nights.
After the warm welcome, the Honorable Guests were escorted to the hotel's suites, overlooking the Mediterranean, where they had many treats awaiting them, including organic grape juice and Brie cheese as per Mr. Velosos' request.
Today, after their visit At the Perez Center for Peace, an event of the NIF, New Israel Fund, the leading organization committed to equality and democracy for all Israelis, sponsored a cocktail party for the stars at the King David Banquet Hall at the Hotel. Over 100 distinguished guests attended the event including, the actress, singer and host of the event, Ms. Mira Awad, singer, and songwriter, Mr. David Broza, Producer of Unison fourteen Octaves , who was in charge of bringing the singers to Israel, Mr, Ilan Elkaim, NIF Board President, Mrs. Talia Sasson, NIF Executive Director Mrs. Rachel Liel and many more. Speeches were given by the two artists.