There is so much to do in Eilat, including some unique attractions such as the Dolphin Reef, the underwater observatory, nature trails and a host of fun activities. In this section, you will find a variety of attractions and things that should not be missed. So Without further ado, here are the best things to do in Eilat, Israel's southernmost city.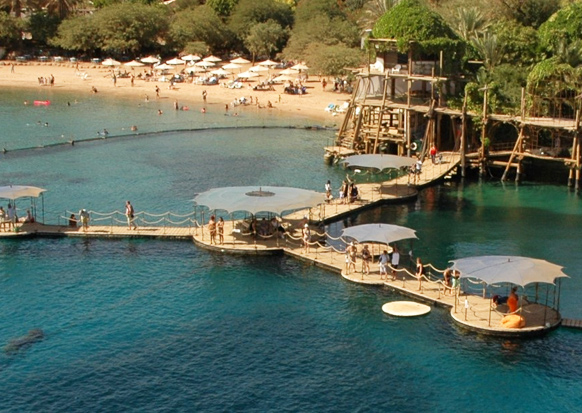 Eilat – Attractions You May Not have Heard About Yet
There are many things to do while on vacation in Eilat, including a visit to the familiar attractions known to everyone. Most of these are listed for your convenience on this page. However, Eilat also offers many and varied attractions unknown to most vacationers, which is why we decided to list some unfamiliar attractions for those of you who have already seen everything.
Read about these attractions here so you don't miss out on some of the new and original experiences next time you vacation in Eilat. Enjoy the tourist attractions you may not have heard about yet and are definitely worth a visit.
Eilat Museum
When looking for attractions for the entire family a visit to the museum may not be on your list. Think again, a visit to the Eilat Museum can add quality and cultural content to your vacation. So in-between swimming in the pool and the sea, eating out at a restaurant and some shopping consider stopping for a visit at this impressive museum. The Eilat Museum presents a fascinating exhibition documenting the history of the southern city since 1935, when Ben Gurion visited Eilat for the first time.
Thousands of exhibits are on display in the museum, including old documents, pictures, films from the past, nature and the landscape photographs, special displays such as the Egged bus from the Ma'ale Akrabim (Scorpion Ascent) attack in 1954, and much more. After touring the museum, a visit to the Eilat Artist Gallery located near the museum is only natural. The gallery exhibits original works of local artists, including an impressive plastic arts exhibition.
Shlomo Camel Ranch
The Camel Ranch was established in 1987 in the heart of the Eilat Mountains Nature Reserve. The ranch is an exciting and unique attraction still unfamiliar to some. The Ranch offers numerous activities for the entire family, focusing on camel treks in the breathtaking desert landscape. The camel treks are suitable for the entire family, with children under 7 years of age riding with an adult over 18.
The duration of a camel trek is usually about 1.5 hours, ending with authentic hospitality in a Bedouin tent located in the heart of the ranch. A camel trek in the afternoon hours before sunset is definitely recommended. Additional trips include a donkey cart trip in the Shlomo Valley and the Tsfahot stream. Attractions for both children and adults are also offered on-site at the Camel Ranch, among them the challenging Rope Park.
Diving in a personal submarine
If you're looking for diving attractions in Eilat, you should definitely check out one of the exciting attractions – diving in a personal submarine. At this relatively new attraction you can dive down to the depths of the coral reef in a personal yellow submarine without needing scuba diving tanks or prior diving experience. This thrilling attraction is also suitable for children. The only condition is at least 130 cm height.
Spending time at Katza Beach
The popular beaches, such as Mosh Beach and Almogim (Coral Beach), are known to all and included in the list of Eilat attractions that are not to be missed. However, new beaches hardly known to tourists have opened in Eilat in recent years, among them Katza beach that was closed to the public for many years. This coastal strip boasts a wild and unique landscape and a beautiful 300-meter calm and quiet secret beach. Entrance to the beach is free of charge and the beach offers shaded areas and toilets. Bring a snorkel or diving gear so you can explore the amazing coral reef at the site.
Hiking tour between water and sky
We invite you to take advantage of a family or romantic vacation in Eilat to get to know the desert landscape in the area. One of the recommended and less familiar trips is the hiking trail on Tsfahot Mountain. The hike takes two hours and is also suitable for families with small children. The trail begins at Tsfahot Mountain with its breathtaking view and ends at the Almogim Nature Reserve, so prepare in advance and bring along a snorkel, bathing suit and towel.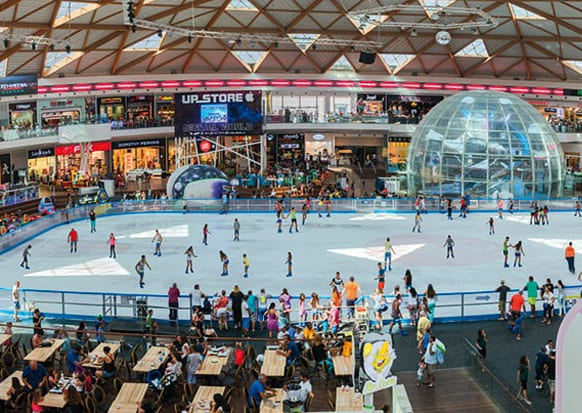 Free Attractions in Eilat
In addition to the endless attractions in and around Eilat that require payment, there are also lots of free attractions for both children and adults.
Northern promenade: This is one of the most popular places in Eilat. Apart from a pleasant stroll along the beach, you will find market stalls, restaurants and a variety of eateries. This a great place to soak up the relaxing atmosphere, even if you have not planned to buy or eat. The promenade is walking distance from all the Dan hotels in Eilat
Binyamin Garden Park and the Musical Fountain: This is Eilat's central park, and is very suitable for children, with a variety of amusement facilities for their enjoyment. The musical fountain is a real attraction - a spectacular show of music and water that excites children and adults alike.
Free ice skating shows in IceMall: Eilat's IceMall is a unique recreation area with ice skating shows at set times on warm summer evenings. There are also shops, stalls and a children's park. Don't forget to check out performance times.
Bird Park: A 40-minute drive from Eilat is the International Bird Park, a unique and fascinating attraction, especially in the spring, at the peak of the migration season. Thousands of birds stop off here on their way to Africa. Watch them from designated viewing areas, and relax by a beautiful lake. You can even rent binoculars.
And of course - the magical beaches of Eilat: Eilat's beaches are among the most beautiful in the country, with a unique atmosphere, warm sun, and pleasant sand. Without a doubt, the beach is one of the best thing to do in Eilat, and actually, in all of Israel. You will surely find the right Red Sea beach for your family.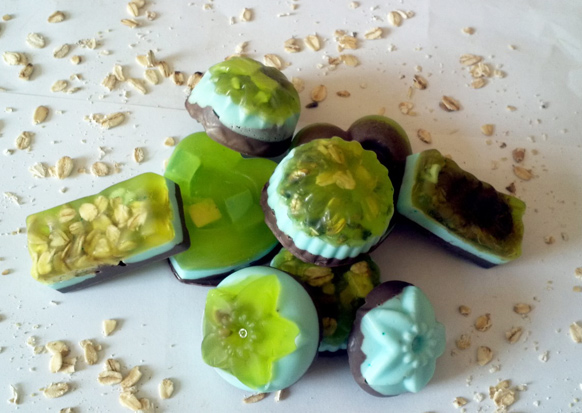 Heading south to Eilat? Activities for kids along the way
There isn't a kid in Israel who hasn't heard of the activities they can enjoy in Eilat, but the trip down could also be a challenge if you're driving with kids. So if you're weighing the option of flying or driving, take a look at this list of fun things to do along the way that'll make the journey a great family experience!
Arava nature and desert aromas
The past few years have seen an abundance of initiatives taking shape in the Arava, based around agriculture and ecology in the region. One is Elat Arava, a visitors' center in Tzukim which holds experiential family workshops suited to children aged 4 and up, where you make your own soap, mobiles, and more. The site is open daily from 9 am to 5 pm. Join a workshop by booking in advance.
Another activity is Aloevera House, also known as JustAloe, in Ein Yahav, where you'll find a shop for aloe vera products. The aloe vera is harvested from a local grove which is unique in the Mediterranean. You can book a free tour and enjoy experiential input about Arava pioneering history, the agricultural developments in the region, and uniquely local research. Ein Yahav's aloevera store is just a 90 minute drive from the Eilat hotels region, which even makes it an easy half day trip out of Eilat itself.
Ramon Crater Visitors' Center
One of the exciting places to stop on your way to Eilat is Israel's renowned Ramon Crater, recommended for its breathtaking beauty. The stunning observation spot faces this vast crater. Nearby you can also enjoy the desert zoological garden called "Hai Ramon." It's a relaxing moment before you get to Eilat proper. The renewed visitors' center, named for the late Israeli astronaut Ilan Ramon, presents wonders of the region, and the crater's unique geology alongside an exhibition about Ilan Ramon, a model spaceship, his original space suit, a moving video commemorating Ilan Ramon, and more. The center opens from 8 am, and tours require advance booking.
Hey, south we go, to Ein Ovdat
Stop on Road 40 at the Ovdat National Reserve, with amazing archeological remains of the ancient Nabatean civilization on what's known as The Incense Route. A visitors' center offers a brief film on the region's fascinating history, then visit the region itself and make your own impressions of the ancient inhabitants' rich cultural life and structures. The site is open year round from 8 am, with a token entrance fee. Experiential activities are held for children, with crafts, tasks and prizes. Check in advance.
Are we there yet? Almost… but first let's stop at Top 94 Park
This is a huge, invested and air condition meditation challenge site suited to all family members, with a variety of climbing walls for different wall climbing levels, go-cart tracks, rope park, paintball and more. Right nearby is the Negev Fighters Musuem with displays of historical weapons and testimonies on the battles fought in the Negev, from the First World War to the Ovda Operation. Top 94 is in the Shehoret Industrial Zone just 3 km north of Eilat.
And one more activity, right in Eilat
Now that the children have had a great time on their way to Eilat, and right before you dive into the city itself, figuratively and literally, we recommend one more thing that you won't even need to leave your hotel for: the Dan Eilat Hotel Daniland Club. It's unique to Dan Hotel guests, with a variety of activities produced by a special team. Enjoy computer games, inflatable playtime installations, movies, info and reading spots, experiential competitions, workshops and more! Our club is open 10.30 am to 1 pm and again from 3 pm to 6 pm. The perfect entertainment for your children!
Drive to Eilat and start your vacation on the way!
Remember, driving to Eilat doesn't have to be tiring, or tiresome. Just choose your stopovers and activities, and start your holiday activities on your way to your holiday location!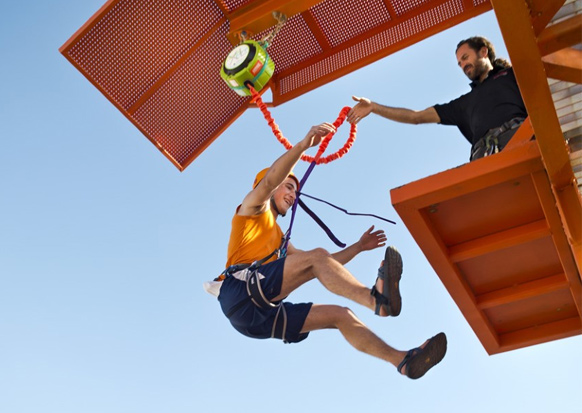 Winter Activities For Kids In Eilat
Eilat is one of Israel's most well-known cities because of its sunny climate most of the year, its inviting beaches, and more. But Eilat also offers a great range of activities for kids even when swimming season is over. Before you finalize your Eilat booking, let's introduce you to Eilat's winter activities for kids.
Winter attractions for children in Eilat
The Israeli winter has never stopped Israelis from going on vacation locally, and filling their holiday with activities that are outside the warm environs of their hotel. Unlike Europe, for example, Israel's winter tends to be a lot milder, and Eilat's is the warmest of anywhere in Israel. Eilat, Israel's tourist drawing city, has only a few days of rain a year, and winter will be pleasant, with a noticeably warmer temperature than the rest of the country. This lets visitors to Eilat enjoy a wide range of attractions without needing to worry about harsh weather, with a warm jacket being enough for when the day is a bit cooler.
So, what can Eilat offer you in winter?
Top 94 Park
The city's northern entrance is the location of a relatively new extreme park. Top 24 holds several great extreme installations such as the bow and arrow range, paintball, "tree climbing" to heights of about 23 meters, and more. Some park areas are roofed so that kids can enjoy them all the way through winter.
Underwater Observatory
Established in 1974, this is one of Eilat's renowned attractions, summer or winter. The site offers some amazing activities, including a lookout into the shark tank, a simulator clip, lookouts over the corals and fish feeding… and it's all under cover which means you won't have to worry about the rain (which rarely falls!)
Eilat Year-round Dolphin Reef
This is always among the top three attractions for kids in Eilat, summer or winter, because there's nothing like romping with these amazingly intelligent and gentle creatures which show such closeness to humans. Enjoy the observation point, or games outside the water if it's too cold to get in.
Eilat Botanical Gardens
A kind of refreshing desert oasis of stunning beauty, this site is in the city's northern region. Eilat's botanical gardens let you stroll with the kids, stop at the many attractive points along the pathways, and even enjoy a rainforest (yes! you read that right!) which is a worldwide first, including a diversity of tropical plants never seen before in Israel. This is a great place for an educational experiential outing that lets visitors enjoy a unique view to the city and the Mountains of Edom.
Stalbet al-Hamayim Hot Sulfur Springs
It used to be that Tiberias was the only place where hot sulfur springs were found. Until they also showed up in Eilat! Stalbet al Hamayim, which literally means "relaxing waters," is in the Dolphin Reef. The hot pools are surrounded by the botanical gardens. Relaxing music emanates from underwater speakers. Less suited to very young children, the hot pools are a great experience for families with older children.
Daniland
A club, and a unique attraction for Dan Hotel guests. This is a great option for winter holidays spent resting in Eilat's hotels. Club activities are diversified and include competitions, games, reading corners, crafts, and even inflated play and amusement installations of the kinds Dan Panorama Eilat frequently sets up in Eilat. The Dan hotels also hold quality entertainment events and performances which can easily fill a day or two inside the hotel.
These are just some of the great reasons to spend a winter holiday with your children in Eilat. You'll also get to enjoy great prices, deals, and the city's restful winter atmosphere. So pack your bags and head on south for a sunny winter holiday.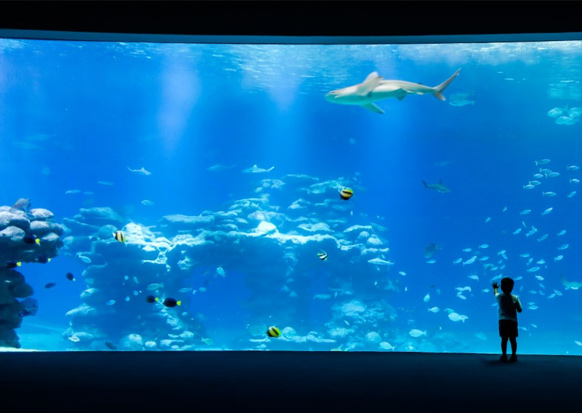 Attractions for kids in Eilat - perfect family summer
Eilat is a magnet for couples, young people, students and more. But above all, Eilat remains the ideal place in Israel for family vacation. Here are some favourite recommended attractions for children in Eilat.
Beach Parachutes in Eilat:

Eilat has several leading operators offering parachuting, including an experiential ride in beach paragliding above the city. This is a completely safe area, and the instructors are talented and skilled. Heartily recommended for both parents and adult children.

Jeep Tours:

The Eilat Mountains have unique landscape configurations, changing sand colors, and hidden corners. Several local companies offer exciting jeep tours suitable for the whole family. There are different routes of different duration, just choose what works for your family.

Rope park in Eilat's camel ranch:

The largest rope park of its kind in Israel is located in Eilat's camel ranch, which has several color-coded routes (green is suitable for families and for children from 1.20 m height). The park is also open at night, making the experience even more enjoyable and challenging.

The Shark Pool:

The underwater observatory is perhaps one of the most familiar attractions in Eilat, but not everyone knows about the shark pool. Suitable for all ages, even the little ones, this is a tunnel through which you can watch the sharks swimming close up.

Other activities for kids:

There are many other things to do in Eilat with the children. Malls, performances, special activities for children in the hotels, and more. It's a good idea to find out before you arrive what activities are suitable for your family.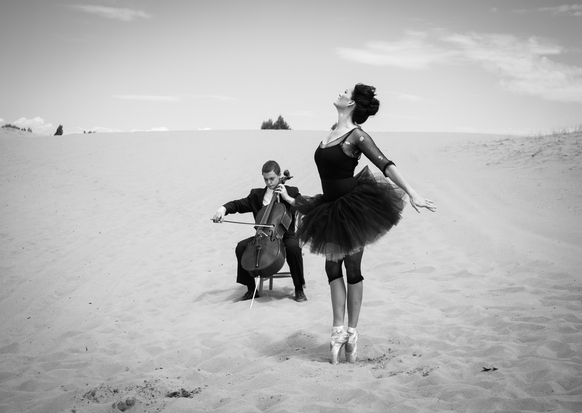 Yearly Festivals and Cultural Events in Eilat
In addition to the variety of attractions in Eilat, the southern city hosts a wide range of cultural events, festivals and international happenings. We have collected for you here a variety of events for lovers of culture, music, photography and more.
Jazz on the Red Sea
This well-loved and long-running jazz festival, which is popular not only in Israel but also around the world, has been taking place in Eilat since 1987. Traditionally, the festival includes at least four days of jazz performances and master-classes. Every evening, the participants wait for the jam-session – a combined performance that goes on until dawn and includes performances by several musicians together, both Israelis and non-Israelis. The various performances take place in hotels, halls in the city and other locations. In addition, the festival includes competitions and performances by young and unknown ensembles.
The Chamber Music Festival
Another international festival that takes place in the city is the Chamber Music Festival, one of the musical attraction in Eilat that not many people know about – at least not those who are fans of this genre. The festival was founded in 2006 by the director of the Eilat Conservatorium, and quickly became a cultural icon in Israel and an event that in the eyes of many, has come to be identified as the festival that symbolizes Classical Music in Israel. It has a rich history of performances of music and a variety of cultural forms, including: flamenco, orchestras from around the globe, leading musicians for the world of classical music and more. In addition, master classes also take place in the framework of the festival.
Eilat - the Red Sea
As is well known, Eilat and the Red Sea beaches along its shores include spectacular coral reefs, which have immense maritime importance partially due to the fact that they are the northern-most coral reefs in the world. In order to take advantage of these treasures, which to be truthful have been in danger of extinction for many years already, the city holds an international festival of underwater photography that is totally devoted to underwater photography – whether by professionals or by amateurs. It is possible to compete in the festival, exhibit works in exhibitions and take-in professional knowledge that is presented from time to time by the participants, which is not available in many other locations, at least not in Israel.
The Funjoya Festival
In comparison to the other international festivals, this is a totally Israeli festival that is held for the benefit of students, similar to the spring breaks that are known to us from abroad. The festival, which takes place on one of the weekends between the academic semesters, includes parties at several hotels, beach parties and more. In addition, since this a festival that is meant for the student population, one can register for transportation from central locations around the country and sometime there are unique benefits for students to be found during this period. Over the years, the Funjoya Festival has become a popular attraction among young people coming to Eilat from all over the country.
The Five-Month Festival
Eilat offers its visitors and tourists 35 different festivals (some of which we have already mentioned), with the goal of turning the city into a focus of tourism and attractions. The festivals cover a variety of subjects, such as culture, sport, fashion, art and more. Despite the fact that these festivals were meant, among other things, to attract tourists and as a result, are publicized by the Ministry of Tourism, the festivals are undoubtedly suitable also for the Israelis among us. Everyone can enjoy the many advantages of winter vacations in Eilat, such as excellent weather even in the rainy season and of course the variety of colorful and lively events.
Street Artists' Festival in Eilat
The Festival of Street Artists is a relatively new initiative among the variety of tourist festivals in the city. This festival takes place every Friday on the various promenades in Eilat, which constitute by themselves a local attraction and include colorful circuses, street theater, street parties, various musical performances and more. In addition, during the festival, children can enjoy a selection of activities and attractions that are suitable also for them.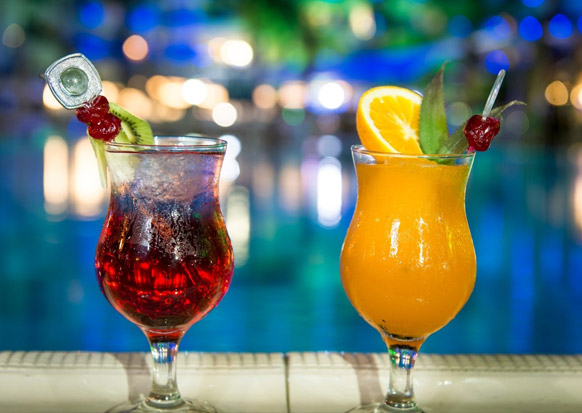 Discover Eilat's Nightlife: A variety of recommended bars and clubs
Eilat is the focus of a vibrant nightlife. Here are just some of our recommendations:
The Academy Bar. Serves as an alcohol and bartender school during the day. At night, this is a high-quality bar, along with music, huge plasma screens that show performances and clips. Despite its success, the bar manages to maintain a warm and family atmosphere. Located on Yotam Street.
The Crazy Elephant. A huge, relatively new club with a vast dance floor, a number of alcohol bars and VIP specials. European-style clubbing experience, with Israeli music and hip-hop. Especilly busy at the weekend., when it is hosted by the best DJs and leading artists. Located at HaMasger Street.
Messi Bar. Small and local, designed for rock lovers of all kinds. The bar specializes in special beers. Intimate atmosphere, great if you don't like places that are too crowded.
The Monkeys. One of the oldest bars in Eilat. Spacious dance floor, rich food menu and wide choice of alcohol. Live performances, and screening of sports games in the season. Located on Derech HaShalom Street.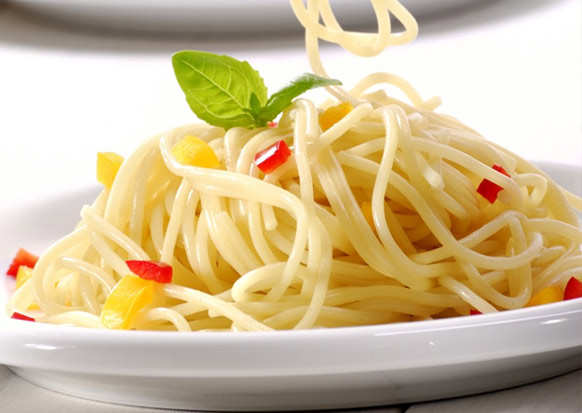 Recommended Restaurants in Eilat
If you want to add some variety to your stay, and eat outside of the hotel, there are not a few recommended restaurants in Eilat that offer an excellent culinary experience. There are restaurants that are particularly suitable for families and children, and there those which are perfect for a romantic couple's experience. We have listed here three restaurants that we particularly love. Bon Appétit!
Olla Eilat – Precise and Varied
So what's so special about Olla? Forget about deliberating and arguing about where to eat. Olla offers you everything. Are there vegans in the family? Olla Eilat offers more than a few highly recommended vegan dishes, as well as types of spaghetti, pizza without cheese (with lots of vegetables), stuffed mushrooms and even several types of desserts. Carnivores? The restaurant's grill menu includes all the dishes you can think of. There is even a sushi menu for lovers of Asian dishes. The international kitchen and wide variety available at the restaurant don't detract even slightly from the quality and superb taste of its amazingly exact dishes.
Olla – Tarshish 7, Eilat | Kosher
Pastory – Toscana on the Red Sea
Between the many attractions in Eilat, leave time for a family dinner at a good Italian restaurant, one that makes feel like you are in Florence. In Eilat, you can find many restaurants from this genre, and Pastory is one of the leading ones. The restaurant is designed in the Italian style and uses excellent ingredients, which make every dish in the restaurant a delicacy. On its menu, you can find a variety of pizzas and pasta, in addition to fish dishes, meat and seafood. In addition, Pastory has a lengthy wine list at attractive prices. The restaurant also offers gluten-free pasta, whole-wheat pasta and also a diverse children's menu.
Pastory – Tarshish 7, next to the Neptune Hotel | The Restaurant is not kosher
Eddie's Hideaway – Eat with the locals
Eddie's Hideaway is a well-known institution in Eilat and one of the oldest in its culinary scene. The restaurant was established in 1979 by Eddie Hetz, who was born in New York and came to Israel in the '70s. Originally the restaurant was located in a residential neighborhood, and recently moved to Eilat's Industrial Zone. The work of the owner and original chef Eddie Hetz has now been taken over by his son Ashley, and the menu remains of high quality and variety. Among other things, you can find pasta dishes, fish and seafood, but the restaurant's meat dishes are the jewel in the crown – a variety of American style dishes, with all that that means. Our recommendation – sit down at the long, stylish wooden bar and feel like you are really in America.
Eddie's Hideaway – HaMasger 2, Eilat Industrial Zone | The Restaurant is not kosher
Additional Information
These were only three of the many restaurants, cafés and fast-food stands that are all around Eilat. In addition, in the many new shopping centers new restaurant are popping up, and branches of leading Israeli café chains are being established. Thus, in every corner of the city you will find something to keep you from being hungry. Remember that in some of the restaurants and cafés in the city you will need to book in advance, especially in the popular summer season. Bon Appetit!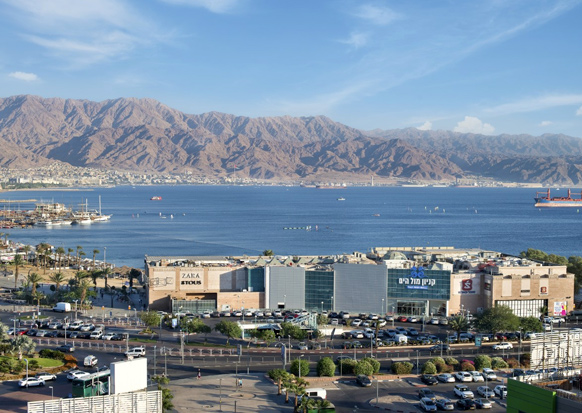 Shopping in Eilat: tips and places to know
Eilat, making a buzz as the city with no VAT (Value Added Tax). What kinds of savings can you enjoy? Are all products worth buying? Here are some great tips for smart shopping in Eilat. VAT-free shopping: Not all products purchased in Eilat are VAT exempt. Jewelry or watches valued at higher than $200, vehicles (including motorbikes and jet skis) all carry VAT.
But many of Eilat's stores offer better prices than stores in the center of Israel.
***
Electrical and electronic goods: Many Eilat stores offer electric and electronic goods at great prices, even competing with online prices.
Clothing: Because clothes are VAT-exempt, many visitors take maximum advantage of the savings, often buying wardrobes for the whole family for all the seasons of the year.
Baby gear: Eilat is also a place where you can make big savings on baby gear and brands because of the VAT exemption. This includes carriages and strollers, carriers, chairs and more.
Big Eilat Shopping Mall. 10,000 square meters of fun and fabulous shopping. You'll find familiar chains and other stores. Easy parking options.
The New Ice Mall. Ice rink in the center, and the upper floors offers shops, entertainment for all ages, restaurants, and all kinds of activities.
Red: Right on the waterfront and close to the hotels. Great choice of fashion stores, leisure activities, stores for children's goods, and more.
B.G. Outlet. Huge, modern store offering outlet items from leading Israeli and international brands such as Lee Cooper, Timberland, Nine West and many more! The store's located not far from the Laguna, in Ofira Park
Designer stores and boutiques. Great variety of boutiques offering items in different areas of fashion, from designer clothing to classy accessories at very affordable prices. Boutiques close to the Dan Eilat include Maya Negri, Ronen Chen and others. The King Solomon promenade has designer galleries with items at better prices than you'll find in the city center or northern city area.
Mall Hayam Eilat. A great place for clothes shopping, Eilat's much loved Mall Hayam has a huge choice of stores, including cosmetics, jewelry, sports goods, shoes, casual and classy clothing - all at great prices.
And what can you do when the shopping spree is all done? Come back to your Dan Hotel room and rest up with Dan Eilat or Dan Panorama services. Book your holiday now and enjoy great rooms, meals and highest hosting standards in the city. Once your shopping spree is done, enjoy all the ways Dan Hotels can pamper you best.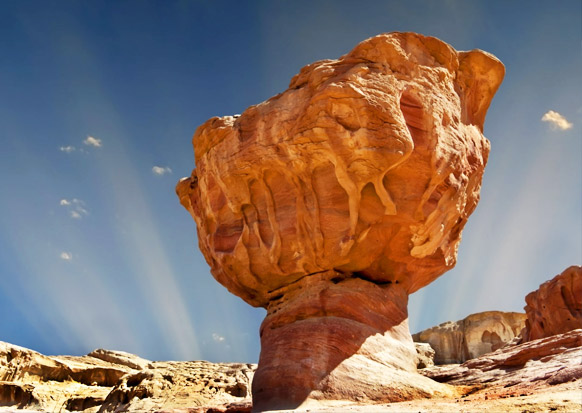 Recommended trips in Eilat: on foot, by bicycle and in 4x4 SUVs
Do you want to feel the outdoors? There are many enjoyable trips and routes to see Eilat's desert views and landscapes. So, without further ado, here are some interesting suggestions for excursions on foot, bicycle tours and jeep outings in Eilat and the surrounding area.
Excursion on foot
One of the perfect excursions in Eilat is a trip to the Holland Forest. The Holland Forest is a forest planted by Keren Kayemet LeIsrael, located in the gullies between Eilat and Kibbutz Eilot. The area is very barren, and therefore the existence of the trees there is due only to artificial irrigation (as opposed to other Keren Kayemet forests in Israel). The forest is close to the city of Eilat, next to Sheshet HaYamim boulevard (on the northern side). The site is next to the Big Center, from where it is possible to start the route. For those arriving by car, you can go to the traffic circle at the entrance to the city, turn onto Sheshet HaYamim boulevard and continue for about half a kilometer until the signs pointing to the park. In the forest, there is a pathway marked in green, about 2 kms in length. Along the path, there are signs explaining about the trees that were planted there. You can continue on, either from the start or the end of the path, to the
Alik
birdwatching site, from where you can look out over the city at leisure, and also over Aqaba.
Bicycle tour
Trips in Eilat can definitely include bicycle tours in Eilat and its surroundings, including a bicycle tour around the Timna Park. On one hand, this is a park that is located some 25 kms from Eilat, but for biking fans, it is recommended to stop there before arriving in Eilat or on the way home. KK"L (Keren Kayemet LeIsrael) has prepared 14kms of bicycle paths there, of various degrees of difficulty. There are also routes that are suitable for families and if you don't have a bike, you can rent one on the spot. The best-know route in the park is the "Single Timna". The meaning of the name comes from the fact that in many places along the route, there is only room on the path for one rider at a time. The whole route is 14kms along, at a level of medium difficulty. The route starts and ends at the Timna Lake and among other things, goes past the impressive Amram Pillars. The entrance to Park Timna requires payment. Additional details are available at the Park Timna website.
Jeep outings
The Eilat Mountains offer many routes for jeep outings, among which is the charming tour at Evrona (a nature reserve). The route starts from the eastern side of the Arava Highway, and you can plan ahead to go to Ein Evrona. From there, you continue on for some 3kms on the road marked in black, until you see the extraordinary Doum Palm trees in the reserve. Thereafter, you can start according to the red markings (in a south-western direction). You can stop from time to time when you see something special, like flamingos in the reserve's pools in the winter. After reaching the greenhouse area, you can continue back to Highway 90, or alternatively, turn north and reach the Evrona Farm and the remains of the wells. It is recommended to have a map of trips from KK"L, where routes and excursions are marked (no. 20 for the Eilat area). In any event, if you are not sure that you can manage on your own, you can always find a tour company that offers jeep tours in Eilat, where you can also drive by yourself.
In addition to the routes that are presented here, there are many other routes in Eilat that are also suitable for families with children. It is highly recommended to include at least one route during your vacation, in order to absorb the beautiful desert scenery of the Eilat region. Don't worry, the pampering room and the strong air-conditioner are waiting for you back at your hotel at the end of the day.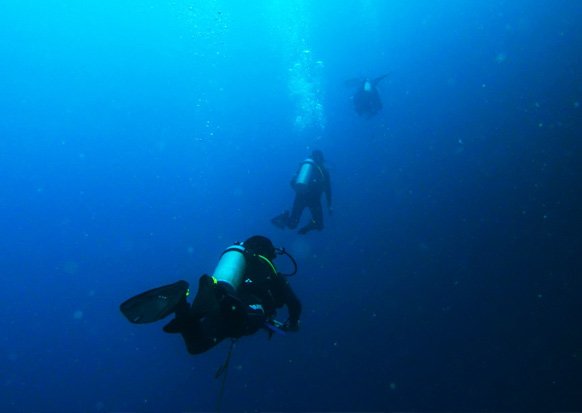 Nautical Attractions in Eilat – Recommended Diving Sites
Looking for attractions in Eilat? If you ever thought about diving sites in Eilat, you've come to the right place. In the following paragraphs, we will focus on three spectacular diving sites in Eilat.
The Japanese Gardens
The Japanese Gardens are a treasure, located in the southern part of the Almog Beach Reserve. This is the largest and best preserved diving site in Eilat, as it contains an impressive line of coral reefs which are a sample of the natural maritime environment of the city of Eilat. To our great joy, this area has not been significantly damaged by destructive processes that have affected other reefs. There are those that say that the shallow part of the reef is slightly reminiscent of Japanese gardens. Other than that, there is no real connection between Japanese gardening and the reef, which is spectacular in its own right. The site is located in an area that is perfect for diving on almost every day of the year. It is recommended to visit the site in the morning hours and up to early noon, in order to enjoy both enough light and multicolored fish. It is important to get updates on the site's diving instruction, that are published by the Israel Nature and Parks Authority.
The Mosquito
The Mosquito is one of the special diving sites in Eilat. This site is unique and half-artificial, that includes a small patrol boat that was sunk there on purpose in 1986. Around the boat, underwater life has developed as only the sea knows how to do, and therefore today you can dive around the boat and enjoy the fish, corals and all the water's treasures. In order to reach the site, it is recommend to have the assistance of a certified diving instructor and take the long way, that includes a relatively long, steep, but safer descent concerning the depth of the water. In general, you should never disregard safety – when visiting the dive sites in Eilat, don't depend on too little experience, dive only with a certified instructor or in organized groups according to the instructions. The Mosquito is not a huge boat, but it does contain closed-off areas that one should not go into, even if they look like they are easy to get out of.
Wadi HaDekel Beach
This is one of the most recommended dive sites, recommend especially for both beginners and professionals (if you are an advanced diver, you probably know the site already). This is an underwater wadi (gulch) located between two rocky drops, on which spectacular coral reefs have developed, but there are also pieces of junk that remain there, which over the years have been turned into homes by the fish. Unfortunately, there are also abandoned fish cages there, which people used illegally in the past. The wadi wanders around to various depths of up to 40 meters, therefore pay attention to where you are diving and how deep you intend to descend. Many people have describe the place as a "Garden of Eden" of fish and sea creatures.
In conclusion, it is important to once again remind you of the importance of safety. Remember that diving in Eilat is a question of skill, especially when descending to the natural depths of many of the coral reefs on Eilat's shores. Do yourselves a favor and choose a certified diving instructor or diving school, even if you have some diving experience. Only by diving safely will you be able to really enjoy the dive, the coral reefs, the fish and the spectacular underwater landscapes.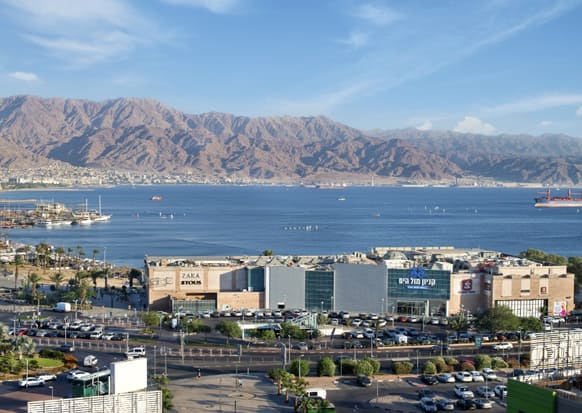 Clothing In Eilat
Have you made your booking for Eilat and started dreaming about shopping? Here's some information about shops and malls you won't want to miss, and tips to help you decide where and when to buy clothes in Eilat and update your wardrobe!
How does a zero VAT outlet sound?
Before you head off to apparel stores without VAT in Eilat, it's worth stopping at a place like B.G. Outlet. The store is huge, modern and unique, offering outlet items from leading Israeli and international brands such as Lee Cooper, Timberland, Nine West and many more! The store's located not far from the Laguna, in Ofira Park, and open Sundays to Thursdays and Saturday nights (in winter too!). By the way, the store's really close to some of Eilat's great hotels, such as Dan Panorama. In the city you'll find other outlet stores worth stopping at, such as Golf & Co., or Adidas.
Designer stores and boutiques for women
There's also a great variety of boutiques offering items in different areas of fashion, from designer clothing to classy accessories at very affordable prices. You'll find some of these boutiques right near the Dan Hotel along the promenade, including Maya Negri, Ronen Chen and others. If designer clothing is your thing, you'll love these stores. And here's a tip from Eilat locals: the King Solomon promenade has designer galleries with items at better prices than you'll find in the city center or northern city area.
A must-see: Ice Mall
The ice park has everything, not just when it comes to shopping. At its center you'll find the ice skating rink, floors devoted to all kinds of shops, and even an artists' market. You'll find brands and food stalls, cafés and more. If the kids want a break, take them to the huge games hall on the upper level, or to the mini playground on the lower level. There's never a lack of what to do at the Ice Mall. We recommend this shopping center which lets you enjoy one store after another, all with no VAT.
Mall Hayam Eilat
A great place for clothes shopping, Eilat's much loved Mall Hayam is one of the oldest and most profitable malls in Israel, and for good reason. When it comes to shopping, you'll find a great array, from cosmetics to jewelry, sports goods to shoes, casual and classy clothing, at great prices. Enjoy the special Eilat atmosphere associated with this mall.
When's the best time for clothes shopping in Eilat?
Eilat runs sales at the same time that the rest of the country does. But here's a tip: we recommend coming in fall and even in winter, when you'll enjoy end of season prices from summer items, get the latest in new winter gear, and enjoy a pleasant and less crowded shopping experience. We always recommend comparing prices, especially if your Eilat visit focuses on shopping. A final tip: clothes stores which aren't part of a chain aren't obligated to offer cheaper prices, but many have agreed to maintain a range that keeps the prices of their items accessible. Definitely worth spending some time checking out all your options.