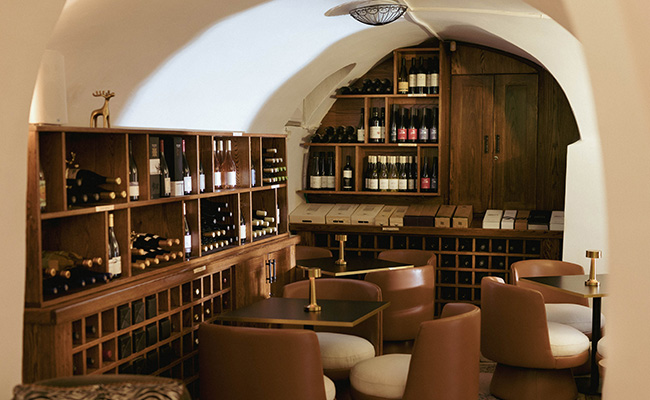 Muza – The new wine bar at RUTH SAFED Hotel
Ruth Safed Hotel is a Dan Hotel Chain boutique location right in the heart of the Artists' Colony and a short distance from historic and Jewish sites in Safed's Old City. Recently the hotel launched its new wine bar, "Muza," a platform for boutique wines from the Galilee and Golan Heights.
Muza is an authentic wine bar situated in the ancient khan, the 13th century inn, in the heart of Safed's Old City. The ancient khan, as an inn was called, used to host travelers on pilgrimage to the Land of Israel and convoys of merchants. Recently it underwent upgrades to adapt to modern standards of hosting. The new bar is open to hotel guests as well as the general public.
Richly appointed wine menu
Muza, the new wine bar in Ruth Safed Hotel, offers a rich array of drinks, including the best of the boutique wines from the Galilee and Golan Heights. The wine menu has been carefully crafted to represent 40 years of agriculture in the Galilee and Golan Heights. Muza serves as a platform for farmers, vignerons and vintners from the region. Among the items on the wine menu are top quality beverages from leading wineries, such as:
Odem Mountain. A leading boutique winery established in 2003 by the Alfasi family, of Odem Mountain, its wines excel in quality. The vineyards are planted in the northern Golan Heights, where the crisp cold climate and the volcanic earth infuse unique tones into the wine.
Ramat Hagolan. This is the third largest winery in Israel despite being established as recently as 1983. Located in central Golan Heights, this winery led the revolution in Israel's wine culture, turning Israel into a top producer of quality, prize winning wines.
Galilee Mountains. Established in 1997, this winery is planted on Galilee Mountain limestone, the vineyards covering areas ranging from 420 to 800 meters above sea level.
Luria. Yossef Saida set this winery up in 2006 adjacent to the township of Safsufa, or Kfar Hoshen as it is properly known. This is a boutique, innovative winery specializing in kosher wines produced by employing stringently supervised ancient, traditional methods.
Delta. A leading winery in the Upper Galilee, led by professional vintner Yehuda Kamisa, it is located adjacent to the town of Dalton. The winery, set up in 2017, specializes in super premium wines, all of which are aged in French oak barrels.
Recanati. A top quality winery established in 2000, Recanati specializes in growing specifically Mediterranean varieties and rehabilitating ancient Land of Israel grape varieties. Most of its vineyards are in the Galilee.
Foods that go well with Muza's wine menu
Muza invites you to enjoy an amazing culinary experience alongside its excellent wine list. Visitors to the wine bar can enjoy an array of palate teasing and delicious dishes. Muza's menu relies heavily on local produce and authentic Galilean flavors, including highest quality cheeses from Safed dairies, amazing Galilean deserts, and more. Safed's new wine bar is a fabulous reason to visit the Dan Hotel Chain's hotels in northern Israel.