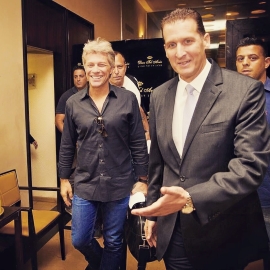 Jon Bon Jovi at Dan Tel Aviv
On his first visit to Israel, the Grammy award-winning singer, Jon Bon Jovi stayed at the Dan Tel Aviv Hotel for two nights
The singer autographed the hotel's guest book (following Madonna, Mick Jagger, Bono and many others who have done so before) and thanked the Dan Tel Aviv hotel and his fans in Israel for a successful first trip and looking forward to revisit again soon.
The American Rock and Roll legend, performed his first ever concert in Israel to a packed and excited crowd. The concert took place at Park Hayarkon in Tel-Aviv in front of a 50 thousand crowd of his fans.
Mr. Bon Jovi is an American singer-songwriter, record producer, philanthropist, and actor. He is best known as the founder and leader of the rock band 'Bon Jovi', which was formed in 1983.