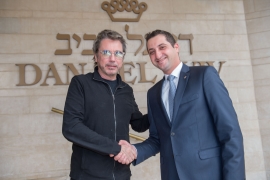 The Composer and Producer Jean Michel Jarre at the Dan Tel Aviv Hotel
On Friday the 8th of January, The Dan Tel Aviv Hotel welcomed the composer and music producer, Mr. Jean Michel Jarre.
Mr. Jean Michel Jarre, is a French electronic music composer. As of 2005, Jarre has sold 72 million albums and recordings worldwide. 1976 marks the debut of his solo album titled Oxygène, which made him internationally famous thus starting his launch of becoming an international star. In 1986, He was chosen as the main artist for joint celebrations of the State of Texas 150th birthday and NASA's 25th birthday. On April 5, Houston appeared to approximately 1.3 million viewers and was recorded in the Guinness Book of Records as the largest outdoor rock concert in history. On October 5th, millions appeared in his hometown of Lyon to an audience of about 800,000 which was held in honor for the city's visit of Pope John Paul II. Mr. Jarre was welcomed by Deputy Manager, Mr. Radu Mitroi, and was accompanied to his luxurious suite.