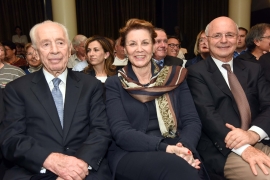 Ben Gurion Award Ceremony at the Dan Tel Aviv
This afternoon, the Ben Gurion Award Ceremony took place at the Dan Tel Aviv Hotel.
The participants this year included: former President Shimon Peres, Mr. Erez Navon son of the former president Mr. Itzhak Navon R.I.P, Mr. and Mrs. Federman- in charge of the Dan Hotels chain including  400 additional honored guests among them Israel's national actor Chaim Topol. This ceremony was accompanied by lectures from Professor Assa Kasher discussing the legacy of the first Prime Minister Ben Gurion and the IDF's legacy.  
This year's honored recipients were: Mr. Tzvika Grinvald, who was a soldier who was awarded for his bravery and courage during the Yom Kippur War and the former Chairman Mayor of Ofakim. 
Photo: Israel Hadari