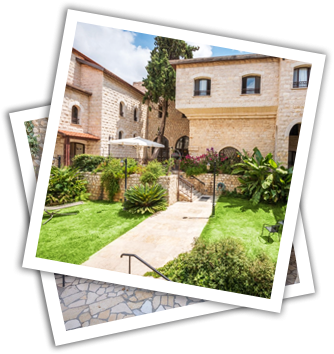 Ruth Zefat Overview
High above the Upper Galilee vistas, on the peak of Mount Canaan, perches the city of Zefat, overlooking one of the greenest and prettiest areas in Israel every season of the year. A number of hotels in Zefat host vacationers seeking a relaxing break from life's routines. But at the very heart of the old city of Zefat, one of the holiest spots with breathtaking views of the northern mountains, you'll find Ruth Zefat Hotel, part of the Dan Hotel Chain, offering guests an outstanding hosting experience with a unique mingling of old and new in a remarkable structure.
The Zefat Ruth Hotel is on the site of an inn 800 years old, yet provides all the luxuries of a modern boutique hotel operating in the 21st century. Ruth Zefat Hotel is adjacent to the charming old city quarter with its picturesque cobbled lanes and interesting attractions. Zefat has something for everyone: synagogues centuries old, workshops and art galleries, local artisans, the ancient Crusader fortress, a cheese maker who uses traditional methods specializing in what is known as "Zefat cheese," wineries whose products are enriched by the high elevation vineyards of the region, and many other tourist attractions.
This ancient Galilean city once served as the capital of Upper Galilee, and was a hub of activity throughout history, whether for Crusaders, Mamelukes or Ottomans. Staying at the Ruth Hotel is the ideal starting point for your old city tour with a knowledgeable guide. Within minutes you're in the old city's center, where Jewish mysticism of major local and international impact developed centuries ago. Take a guided tour (tours from the hotel with the historian David Amiel on Sundays, Tuesdays and Thursdays - in Hebrew and English as per demand) of Zefat's lanes and discover countless charming spots throughout, some in open view, some tucked away and waiting for you to explore. Visit ancient synagogues, and the gravesites of great sages and righteous mystics, for a taste of the unique mood that marks Zefat as a spiritual center.
The range of rooms available in the Ruth Zefat Hotel lets guests choose which option suits their needs best. Rooms are luxurious, beautifully appointed and spacious. Some overlook the Galilean mountain peaks and Mount Meron in particular, always green. The hotel offers a half Olympic swimming pool facing the stunning views. Our hotel provides a wide range of local Galilean cuisine based on fresh produce from nearby farms and stores, together with a well established wine cellar. Enjoy parking and Wi-Fi, free to Ruth Zefat Hotel guests.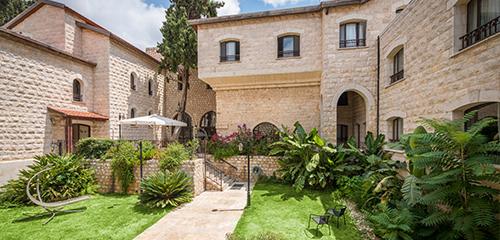 Romantic atmosphere for couples
Breathtaking picturesque Galilee landscape
A peaceful and pastoral stay experience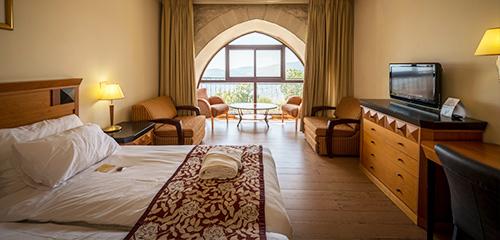 Special architectural structure
Ancient stone rooms with beautiful arches
Located in the heart of an ancient 800-year-old Khan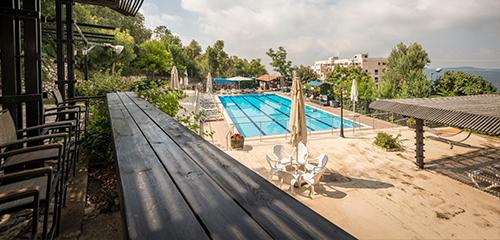 A pampering spa
Half Olympic swimming pool 
Halls for various events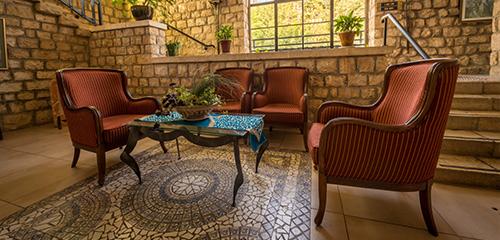 Close to historical and spiritual sites
Markets and alley
Overlooking Mount Meron
Ruth Zefat
Tet Zayin St 1a, Artist Colony
Zefat
Hotel Information
On Saturdays & final
day of Jewish holidays,
Check-In from 17:00
Non-Smoking
The Hotel has a 
Non-Smoking Policy. 
There is a designated
place for smoking.
Parking
Private Parking
Free limited parking
(subject to availability)
pets
Service dogs allowed: Yes
Guide & rescue dogs: Yes 
Pets allowed: No