Valentine's day in Israel – Love is all around
BY Lee Saunders DATE 05/02/2019
You might feel it in your fingers, you may even feel it in your toes. It's that time of year when love is all around. Valentine's Day. The festival of cards, flowers and chocolates or the festival of love? While, in Israel, the tradition of Tu B'Av in August is often recognized as the Jewish equivalent, February 14th has also become an increasingly prominent date in the country, and in fact the world, for celebrating romance. Here, we look at some of the most charming and romantic activities in Israel that you may want to consider, and maybe even pop the question.
Roses are Red, my love
With the tradition of sending flowers on Valentine's Day long established, it's almost as though Israel's floral diversity serves as a stunning reminder. February is a beautiful time of the year to visit the ordinarily green landscape of the northern Negev desert, which is now covered with a magnificent carpet of bright scarlet red 'calaniot' (or anemones) that are in full bloom. A celebration of this spectacle, as well as the country's agricultural accomplishments, is the yearly Darom Adom (or Red South) Festival, which takes place in locations, such as Be'er Marva, Dvira Forest, Shokda Forest, Be'eri Forest, and Ruhama, over four weekends in the month of February.
To the Moon and Back
If you love someone to the moon and back, or even just half way at the moment, from north to south in Israel, there are charming ways to woo your significant other. Soar over northern Israel with spectacular views of the sea of Galilee, its majestic hills and valleys, during a beautiful private balloon flight. Some of the most breathtaking rides taking you high above the Galilee hills in the Mount Gilboa area. With flights including champagne breakfasts, the panoramic views make this one of the most romantic ways to celebrate Valentine's Day.  Make a long weekend out of it by staying at the nearby luxurious Dan Carmel.
If you want to go even higher, you can enjoy one of those rare travelling moments you crave. One classic activity is stargazing at the Mitzpe Ramon (Ramon Crater), and Valentine's Day is the perfect excuse to take a short road trip out to the desert. Or head to just outside Eilat, where What's Up – The Observatory Eilat is an experience to cherish. Guide Ethan Schwartz brings you into a whole new world, with his highly recommended stargazing tour. His telescopes bring home a constellation of stars – far above the out-of-this-world balconies at the Dan Eilat and the Dan Panorama Eilat – but a constellation that no long feels so far away.
And if it is stars you want, famous Israeli singers Ivri Lider are Muki are among others performing at the Dan Panorama Eilat during a spectacular Valentine's Weekend. A special package is now available, as well as a competition to win tickets that will delight your significant others.  Check the Dan Hotels facebook page for all info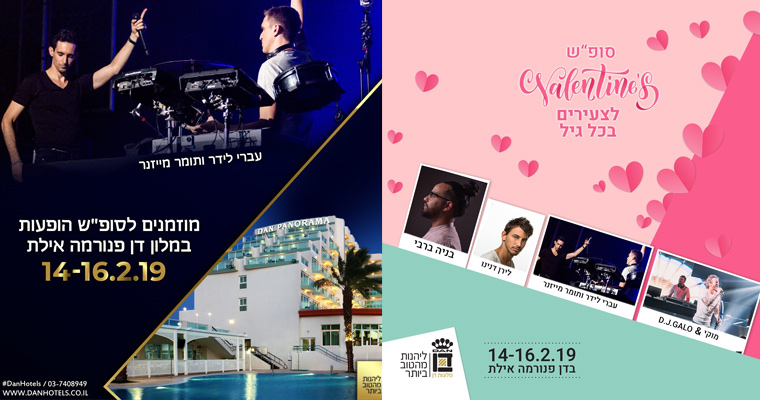 If you like your feet planted on terra firma, you would be hard pressed to find a better activity than watching the sun set or taking an early evening bike ride together along the 14km promenade in Tel Aviv. No two days are ever the same, and whether you park yourselves in charming Jaffa, near the Dan Panorama Tel Aviv, on Gordon Beach, near the Dan Tel Aviv, or you take a sunset picnic  by the lake in Hayarkon Park, these are among the simplest and most intimate activities to mark the day.
Dan Hotels in Eilat – Special deals available now >>
Toast With a Cocktail
After you have dipped your toes in the sand, maybe you are chasing a cocktail? There are almost too many high-quality cocktail bars to choose from.
At the top of Tel Aviv's Rothschild Boulevard, the relaxing and sophisticated Bellboy is a throwback to the 1920s speakeasies, where you lose track of time soaking up the atmosphere, reminiscent of a romantic Woody Allen movie. Drink from a swanky list of cocktails here or at the fancy retro 223 Cocktail Bar, at the port, where they are also presented in a sea shell, bathtub or umbrella. The 1920s feel is available too in Jerusalem, where bartenders at the vintage 1920s decadent Great Gatsby chop, peel, grind, squeeze and shake before your eyes the most intoxicating cocktails, including 'Under the Sea,' served in a seashell, and 'Eureka,' sipped from a lightbulb. The Wine Bar at the King David Hotel Jerusalem blends perfectly with the hotel's elegant and luxurious ambiance and may just persuade you to pop the question, where many have before with the backdrop of the enchanting Old City of Jerusalem.

Dan Hotels in Jerusalem – Special deals available now >>
And, if you are planning the proposal this year, what better way to celebrate than with a wedding day at one of the spectacular Dan Hotels, which have been a prime destination for truly unforgettable weddings for so many couples, for so many years. At any of these luxurious hotels, you can start your journey by using an extensive range of facilities to specially create the wedding of your dreams and rely on our professional team to help you plan the perfect day.
If love has planted a rose and the world turned sweet, why not make this Valentine's Day your sweetest yet?