The Magic of Jaffa
BY Dan Magazine DATE 20/10/2015
1 Comment
"Jaffa", a new book by Elinoar Rabin, takes us on a tour of cafes,
bakeries, shops, workshops, narrow alleys and gardens.
The sights, smell and tastes of Jaffa.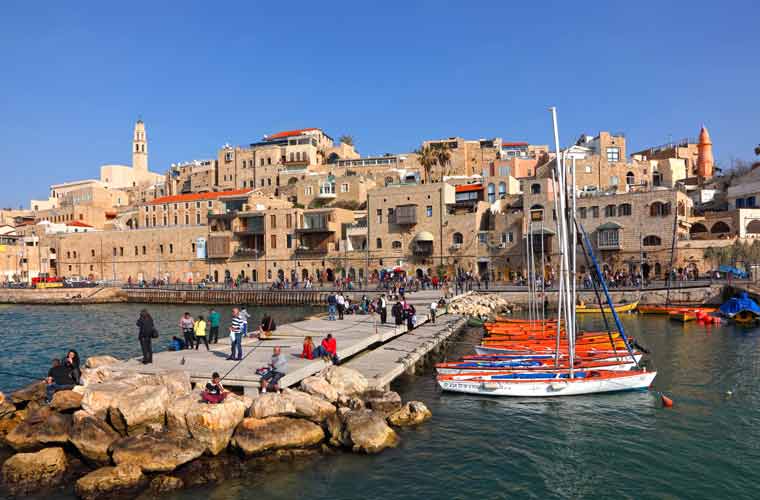 Elinoar Rabin has been living in Jaffa for 15 years and she has had the urge to write about this beautiful city for many years. During her child-hood, her father, who was a Knesset member, Tel Aviv – Jaffa's deputy mayor and chairman of the Old Jaffa Development Corporation, would take her for walks through the neighborhoods and down the alleys of Jaffa to experience the spectacular and authentic tastes, smells and sights.
For Elinoar, Jaffa is the length of sea shore that runs from end to end. It is the port, the fishermen, the smell of the waves. It is the joggers and the mothers pushing prams. Jaffa is park Gan Hamidron, couples of lovers, the ring of church bells and the call of the Muezzin. It is the wide boulevard, the palms and Washingtonia trees. Jaffa is the narrow alleys, bougainvillea bushes, meat, fish and vegetable shops; it is the falafel and malabi stands, and the spice shops. Jaffa is workshops, coffee houses with the smell of roasting coffee, ice-cream parlors, pita bread bakeries, and the odor of pastry shops. Jaffa is the flea market, Noga neighborhood, parks and staircase streets. Jaffa is a town of people – craftsmen, salespeople, tourists, cooks, strollers and buyers. Jaffa is the old city with its square and restaurants. Jaffa is the antiquities, exca-vations, Park Gan Hapisga and the view towards Tel-Aviv. Jaffa is the sea and the sunsets; in one word it is magical.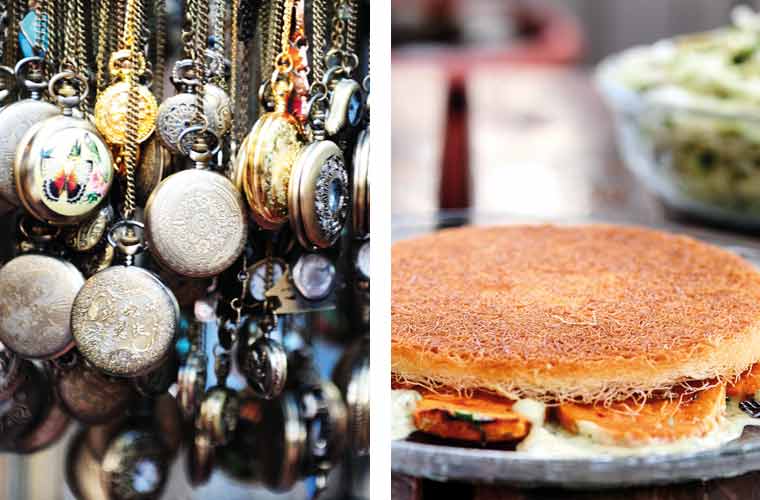 Domi – Paper and Cement Sculptures
18 Mazal Dagim, 052-8610819
Domi Gaon fashions her sculptures out of a mixture of paper and cement, each figure has its own character, some humorous, a couple talking, and some you want to reach out and stroke, even some who are climbing or exercising. All of them are a joy to have around.
A smiling figure sits in the shop's small display window and the passersby smile back at it, some even having their picture taken with it.
Domi also sells many chairs, some collected during her travels. She thinks a chair gives a person their true proportions, some fall off chairs, others find the chair either too big or too small, but there are those who can handle them. There are those who do not need much space and will be happy with a tiny chair, and there are those who prefer armchairs.
Falafel Itzik
90 Jerusalem Blvd.
In a tiny place with a green gate and with no sign, Ezra and Rami prepare falafel. Everyone knows that Itzik's Falafel is here, where it has been for the last 50 years, with the same recipe. It was founded by his grandfather and the recipe is his; continued by his son Itzik, and is now in the hands of grandchildren Ezra and Rami. From 9a.m. to 6 p.m. the numerous addicts begin to show up for falafel served with fried potato, pickles, salads, tahini, spicy ground peppers and humus. The cleaning lady, who comes at the end of the day, guarantees the place will be spotless when Ezra and Rami show up in the morning to the start of another day of preparing falafel and its accompaniments, served with old-fashioned soda drinks.
Old Doors Shop
21 Yefet St., 052-7485588, 054-3327098
A huge selection of old doors and grilles are imported from Egypt, Turkey and Morocco by Ibrahim Abu Nassar, the father, and Mou-hamad, his son. Every door and grille undergoes a total renovation which includes sanding down, painting, and adjustment to its final destina-tion. Some customers pass by, see the collection, are tempted and just need to find the right place.
Shira
In the northern roofed alley of the Flea Market 052-6453663
Michel's shop is colorful and intriguing. A small shop displaying a selection of watches, clothes, "hamsa" luck charms and everything else a tourist or an Israeli might want or collect.
Knaffe
8 Rukhama St., 03-5252818
When Danny Philips decided, 6 years ago, to emigrate from London to Israel he first went to Dalit-el-Carmel, where he learned to prepare Knaffe and became addicted to its taste. He travelled the country in search for the ultimate tasting Knaffe, wherever it was prepared. Danny, who missed the hustle and bustle of city life, moved to Jaffa.Today Danny makes sweet Knaffe, also with halva, coconut oil and cinnamon and savory Knaffe with a variety of flavors and fillings. The savory Knaffe is suitable for vegans. Danny also prepares Shakshouka served in a nest of Kadaiff with a fried egg in the center.