Dan Eilat Renewal: All the Colors of Vacation
BY Dan Magazine DATE 15/05/2017
The redesign of the Dan Eilat guest rooms continues the unique style of the hotel: a vacation ambience welcoming the guests in all its rooms and open spaces.
"We spent four years thinking about it and created a variety of model rooms, since we very much wanted to retain our own special style and the softness of the colors of vacation, but at the same time find a way to update the décor from the 1990s to 2020 without losing our identity," says Dan Eilat General Manager, Lior Mucznik.
He was referring to the completion of the first phase of the hotel's refurbishment of 124 rooms, costing about ILS 15 million. When the project is finally finished and all the rooms and hallways are redone, the total investment will be about three times that amount.
In this first stage, all room categories (Standard, Executive, Deluxe and Family) on five floors have been totally renovated, including improved bathroom lighting and accessories – all in keeping with the hotel's own special resort ambience.
Situated on Eilat's North Beach and designed as a contemporary desert oasis, the Dan Eilat opened in 1995, and Mucznik believes that its décor preceded its time: ensconced architectonic forms and images, and a variety of interesting, colorful design elements that offer a message of welcome, their singularly lighthearted tone inviting guests to fully enjoy their vacation.
Book your vacation now in eilat at Dan Hotels >> 
Developed on a 54,000m² plot of land, this unconventional hotel was designed by world-renowned Hospitality Designer Asam Tihany, its furnishings and accessories were selected and positioned with meticulous care, with an eye to emphasizing the special and out-of-the-ordinary. Tihany wanted to create a hotel unlike any other, with innovative, playful rooms that exude a lighthearted vacation feeling.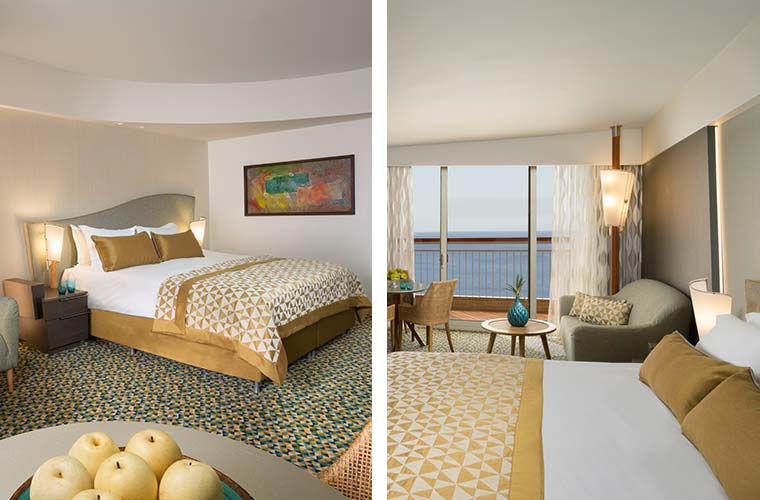 Sea Blue: Desert Yellow
In upgrading the very spacious rooms, which feature a balcony overlooking the sea and the swimming pool areas, due respect was paid to the original design and to maintaining its core elements of elegance, opulence and of course, maximum comfort.
Natural, soft materials were employed, and the color scheme, a combination of marine turquoise and blue and desert yellow, reflect the breathtaking hues of the surrounding landscape to emphasize the blending of the interior with the exterior.
The rooms are wallpapered in a combination of turquoise and white; a voile curtain highlighting wave elements filters out the sun's rays, and the landscape hues have also been incorporated into a carpet boasting a geometric design.
A mirror in the shape of a sail and unique lighting fixtures resembling seashells are also elements of the décor – all with an eye to introducing a sense of the sea into the rooms. Asymmetric design has received pride of place too; the bed backboard has been padded to accentuate its curved shape, and the rounded gypsum ceilings radiate a lighthearted sense of vacation.
In addition, each room features an original painting by Israeli Artist Natan Yosef, who lives in New York and whose colorful, eclectic artistic creations also adorn the lobby. Wooden elements are found in a grey, modern veneer, adorned with metal handles of various lengths, and original textiles of geometric design were created especially for the hotel.
The hotel's joyful, liberated resort feel reverberates in the design of the corridors too, where brightly colored, geometrically patterned original carpeting blends in with the walls' different colors.
As Mucznik explains it: "The Dan Eilat, with its unique design, is a very dominant edifice; it certainly isn't standard. You could move some hotels in Eilat, to Tel Aviv, and they would blend in with the scenery. We define the Dan Eilat as the ultimate resort hotel, and the only way we could have changed its dominant décor would have been to rebuild it, and that is something we did not want to do."
While the renovated rooms were completely refurbished, some specific existing design elements – the rotating trapezoid mirror, rounded lines and special lighting fixtures that guests remember and that characterize the hotel – were very skillfully integrated into the new look by the Dan Hotels' team of architects, who understood the spirit of the hotel.
The truth is, hotel guest feedback emphasizes over and over again that despite the fact that everything is new, there is no mistaking the feeling that this is still the same Dan Eilat.
Dan Eilat for a Family Holiday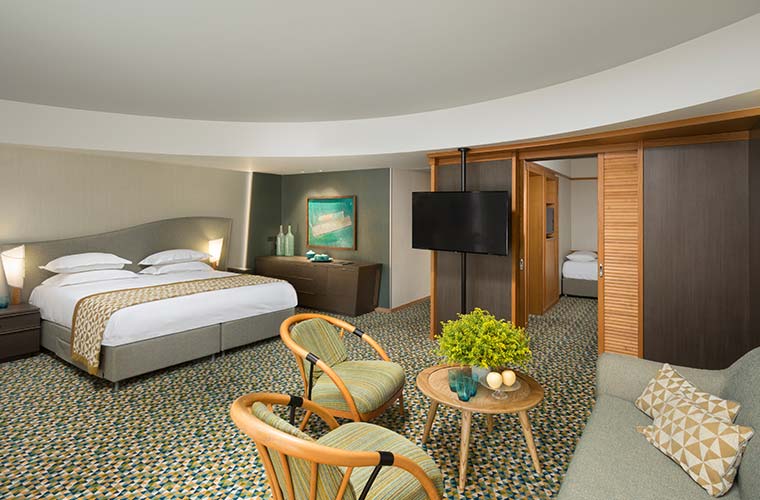 The Dan Eilat has earned renown both at home and abroad for the quality of it cuisine, and the pinnacle of its culinary excellence is best evident at breakfast, which features no less than 97 meters of buffets filled with 100 different items, including vegan options and a hot buffet too: "When Dan Eilat is mentioned, its culinary excellence is what first comes to mind."
Though recognized as a prestigious conference venue, the Dan Eilat, with its three active children's clubs – one for infants and another for youngsters age 11 and older – is the ideal choice for a family holiday.
According to Mucznik, the hotel does not operate in-house entertainment teams, preferring instead, to focus on large-scale kids' programs and happenings, especially on holidays and over the summer. "We start working on our summer programs in spring, when we start reaching agreements with well-known artists," Mucznik reveals.
"For example, the Orna Porat Children's Theater will be featured throughout most of this summer. We've realized that we don't really need in-house entertainment teams. What interests parents most, is keeping their offspring occupied, so we decided to develop scheduled activities in a focused, quality program.
We find this preferable to investing in activities that are cramped, inefficient and unattractive."
The Dan Eilat has received a 5-star-plus rating by the Israel Ministry of Tourism, the highest awarded. Also, it ranked in first place for all parameters in Marketest's latest survey of Eilat hotels.