Tel Aviv – the Hottest City for the LGBT Community
BY Lee Saunders DATE 09/05/2017
1 Comment
"Somewhere over the rainbow way up high, there's a land that I heard of once in a lullaby" –well-known lyrics sung by Judy Garland in the 1939 classic movie Wizard of Oz. Well, that land is Tel Aviv and it should be seen, not heard. Experienced, not imagined.
Epicenter of celebrations and a beacon of light for LGBT rights
Tel Aviv has long been known as Israel's hottest, most liberal and welcoming destination for the LGBT community and at no time is this more visible during the Tel Aviv's extremely popular annual Gay Pride event in June.
Doubling in numbers from 100,000 (2012) to more than 200,000 in summer 2016, the not-to-be missed parade attracts souls from all walks of life and all around the world to brave the sweltering summer heat and party, party, party.
Setting off from Meir Park's Gay Center, which facilitates and organizes LGBT events across the city, the parade weaves its way through the main streets as partygoers dance, drink and jump to Europop tunes while local residents throw cool buckets of water over them from their balconies above.
The parade works its way down the beachfront, close to the Dan Tel Aviv hotel , well-known for being a gay-friendly hotel, its iconic rainbow facade overlooking the Mediterranean Sea.
While the parade finishes at the Charles Clore Park with many live performances, the party continues throughout the night at the city's bars, clubs and on Tel Aviv's unofficial gay beach – Hilton beach.
The diversity of LGBT life greeting visitors to Tel Aviv is everywhere. Estimates on the size of the LGBT community range between 40,000 and 50,000, and, while there are no specific gayborhoods, it is not uncommon at all to see pairs of moms or dads pushing double strollers past sushi stalls on the elegant Rothschild Boulevard or seated at coffee shops on Sheinkin Street.
Book your next vacation in tel aviv at Dan Hotels >>
There is an ever-growing number of supportive LGBT parenting and family groups, different faith groups, English-speaker groups as well as same-sex sports teams. For example, Tel Aviv co-hosted TAG2017, the first ever LGBT Multi-sports Tournament in Tel Aviv, in Spring 2017.
A raft of cultural, artistic and educational events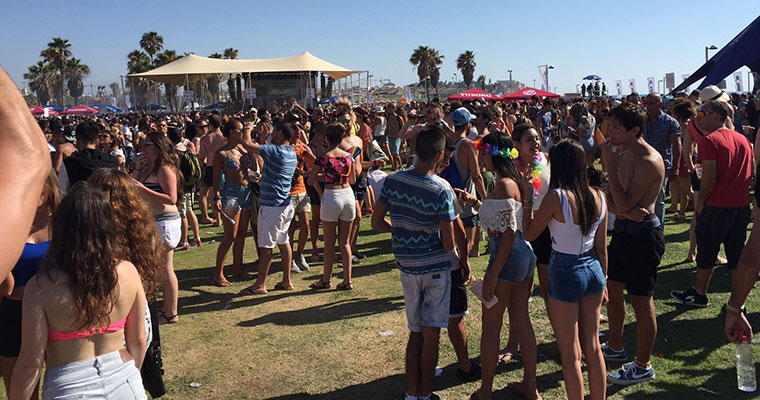 For true culture vultures, the only LGBT film festival in the Middle East, TLVFest attracts 10,000 visitors to its program of movies, workshops and awards and will celebrate its 12th year in June 2017 at its traditional home, the Tel Aviv Cinemateque.
Close by, Habima Square is arguably Tel Aviv's cultural center and home to both Habima Theater, the country's national theater, as well as the 80-year-old Israeli Philarmonic Orchestra. Huge crowds attend nightly performances of longstanding shows, musicals and exciting performances by renowned musicians, milling around afterwards for a drink at the nearby cafés and bars.
Having opened in 1944, the Cameri is one of the most prolific theaters in Israel. Each year, visitors can experience 12 new shows, alongside 20 productions from previous years, ranging from original Israeli shows and classical Shakespeare to modern drama and popular musicals.
Next door, the state-of-the-art Israeli Opera enjoys the support of over 18,000 subscribers and produces an average of eight productions each season featuring leading international and domestic opera artists while gay pop icons Lady Gaga, Gloria Gaynor and Madonna, a prior guest at the Dan Tel Aviv, have all performed in Tel Aviv.
Party till dawn
Tel Aviv's thriving bars and clubs have become landmark destinations for the LGBT community in Israel and those around the world. Tel Aviv may always be sunny but it is often raining men at Shpagat, a relaxed and easygoing theatre-style bar, close to the Carmel Market.
Spilling into an outside seating area and onto the street, the bar attracts a fashionable and mixed crowd – the ideal spot for people watching over a few pints. Down the road, lesbian bar Amazona's great atmosphere and popular DJs make it a stopping point on a night out.
If you want to crank up the action, there are a raft of clubs with LGBT nights. Located south of Florentine is Haoman 17, one of the nightclub world's institutions and Tel Aviv's biggest and most established mega club.
Having hosted many of the world's best DJs in its 11 years, the club is a magnet for all-night partygoers. Longstanding club Bootleg organizes retro 80s music and other themed nights as well as a large number of international DJs keeping serious clubbers happy with techno and trance music.
For the best in R&B and hip hop music, visitors will find it hard to do better than the no-attitude Lima Lima, which hosts an R&B night every Monday and is extremely popular with tourists and the LGBT community.
Nearby Kuli Alma has become one of Tel Aviv's most celebrated and unique clubs. Its murals on the walls take you on a journey through vintage movies, art and graffiti while electronic, house, hip hop and indie music keeps the pulses racing.
Further south in Jaffa is the quirky and alternative no-judgment bar that is Anna Loulou, where Israelis and Arabs, straight and gay, Mizrahi and Ashkenazi visitors hang out, epitomizing the city's diversity.
With such diversity, it is no surprise that Tel Aviv is to be found and enjoyed… at the end of that rainbow.