Top places for a Vibrant City break in Tel Aviv
BY Lee Saunders DATE 23/02/2017
If you want your toes in the sand and a cocktail in your hand, then intoxicating Tel Aviv-Jaffa is the place for both. Whatever your personal taste and whatever you are in the mood for, the options are endless.
Here, we take a stroll through some of the main areas to sample, dropping a few hints of our favorite places to drink, dance and party at the end of a long day sightseeing and relaxing, and all of them a short distance from both the Dan Tel Aviv and Dan Panorama Tel Aviv Hotel.
Beach

The beaches of Tel Aviv draw in a diverse mix of characters and styles and the establishments nearby reflect that. A short stroll down the promenade from the Dan Tel Aviv is one of the city's most classy and intimate gems. With swing jazz music in the background, the seasoned bartenders at the Imperial Craft Cocktail Bar are dedicated to the lost art of the cocktail and offer mixology sessions to cocktail aficionados.
At the other end of the spectrum, right next to the Dan Tel Aviv, the easygoing beachside sports bar Mike's Place recently moved up the street from the U.S. embassy to expand its outside seating area and accommodate more fans of sports, live music and sizeable portions.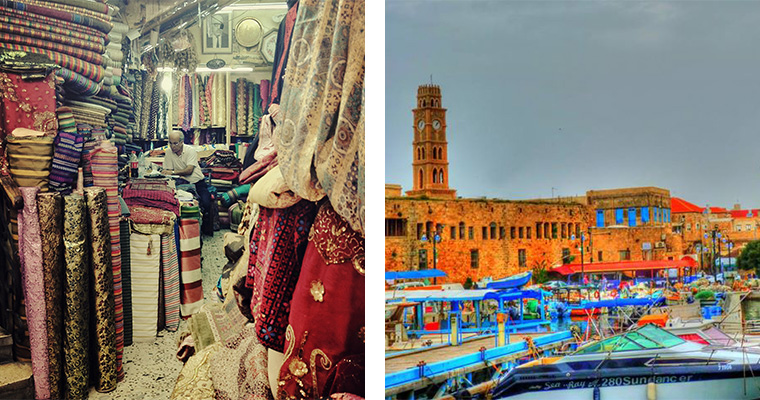 Jaffa

Close to the Dan Panorama Tel Aviv Hotel is endlessly fascinating Jaffa, whose narrow alleyways usher you through a long and unparalleled history, offering you spectacular views from so many different angles. Few are more striking than the smell of fresh fish and sea air, the sight of waves crashing against the port at sunset and the familiar sound of the call of the Muezzin.
An ancient port city, Jaffa's timeless attractions lie among the dynamic and lively mix of workshops, falafel stands, ice cream parlors and restaurants. Salespeople and craftsmen pack the iconic flea market, charmingly haggling with tourists and locals over antiquities, watches, clothes, "hamsa" luck charms and more. Jaffa does not shy away from the modern though.
BY day artist galleries open on the staircase streets but by night, there is a hive of activity around the area's many bars and restaurants while close to the flea market Anna Loulou attracts a wide range of people interested in dancing the night away at alternative Arab and hip hop parties.
Florentine

There is a lively and bohemian atmosphere further north in the hipster 'hood that is Florentine. Smaller than nearby Carmel Market, Levinsky Market is known for its exotic and international spices. Having become one of the coolest and edgiest parts to live, it is an experience to behold.
From Yemenite to Mexican restaurants, the streets are lined with coffee houses, hummus stands and eclectic bars, such as the delightfully named Bar Mitzvah. All are tucked in behind Haaliya Street, reaching into the heart of the Florentine neighborhood, decorated with some of the most fascinating and inspirational graffiti in the city. Close by is nightclub Kuli Alma, which, in less than three years, has become one of Tel Aviv's most celebrated and unique clubs.
Its murals on the walls take you on a journey through vintage movies, art and graffiti while electronic, house, hip hop and indie music keeps the pulses racing. With an impeccable sound system, The Block, close to Tel Aviv's Central Bus Station, is considered by hardcore fans as a world-class destination for house and techno music. This multi-floored club is said to redefine the clubbing experience and spotlights household named DJs such as Guy Gerber and Solomun.
Neve Tzedek

Minutes away, there is a completely different vibe in the charming Neve Tzedek, Tel Aviv's first established neighborhood, you will find cobbled streets lined with designer shops, classy wine bars, romantic restaurants and colorful architecture.
A calm oasis away from the hustle and bustle of central Tel Aviv. In the heart of Shabazi Street, Jajo Wine Bar delves visitors into the captivating and intriguing world of wine, offering workshops and wine courses at either this or the venue at Sarona market.
Nearby, the Wine Story enchants customers with a welcoming ambiance and an extensive list of boutique wines from Europe and Israel.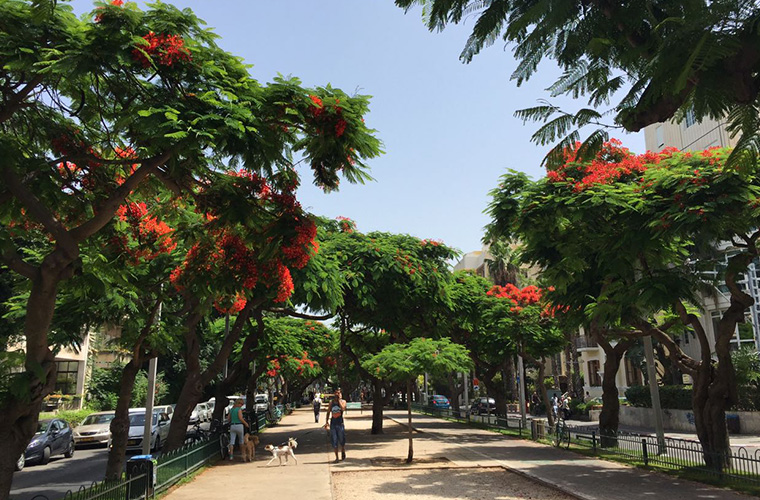 Rothschild

On the fringes of Neve Tzedek is the Rothschild Street, one of the most popular streets to experience. Ice cream parlors, cafes, restaurants and pubs watch on from the sides as locals, tourists, strollers, dog-walkers, skateboarders and families mix, mingle and go about their business under a lush canopy of green.
Pensioners relax by playing boules in the center of a busy street while a tourists relax in deckchairs reading from a street library near Habima Square at the top of Rothschild. Close by, the relaxing and sophisticated BellBoy offers some of the best cocktails around.
It is a throwback to the 'speakeasies,' which became prominent during the Prohibition era of 1920s America. You can lose track of time soaking up the atmosphere, reminiscent of a Woody Allen movie, enjoying the old school background music, and drinking a delicious range of extravagantly presented cocktails straight out of a sea shell, bathtub or an umbrella.
If you're more in the mood for dancing, at the bottom of Rothschild, there is one of the trendiest underground electronic clubs – Breakfast Club and Milk Bar. Deep house and pumping techno dominate the sounds at this nightlife institution, with passionate fans partying until dawn. Inside, you can also access Milk Bar, which plays the best funk, hip hop, new rave and electronic music from around the world.
For the best in R&B and hip hop music, visitors will find it hard to do better than the no-attitude Lima Lima, which hosts an R&B night every Monday and is extremely popular with tourists and the LGBT community.
Allenby

At the bottom of Rothschild Street is the long and windy major thoroughfare, Allenby Street home to dozens of small businesses, jewelers and bargain stores by day, and by night quirky bars and cafes filled to the brim. Allenby stretches from the Mediterranean down past Carmel Market to Florentine. Nestled in one of the lively side streets within Tel Aviv's famous Carmel Market is the boutique Beer Bazaar, seen as one of the city's finest and most authentic establishments.
Here you can learn about and sample a wide range of Israeli craft beers, pale ales and ciders, including pumpkin beer and their own home-brewed 'Fat Cat'! Close to Carmel Market, there is a relaxed and easygoing theatre-style bar – Shpagat – popular with the LGBT community. Spilling into an outside seating area and onto the street, the bar attracts a fashionable and mixed crowd – the ideal spot for people watching over a pint or two.
Another welcoming hotspot is Geula, where owners Micky and Carol have magically transformed this once-sleepy establishment into a vibrant and eclectic bar dishing up drinks, homemade food and soulful atmosphere to an often intelligent and older hippy crowd.
Dizengoff and Center

Turning north east and towards Dizengoff, you are soon in the beating heart of the city. There are numerous stores, cafes and restaurants in the vicinity of the bustling and often-confusing Dizengoff shopping mall. Across the street is OzenBar Club, which serves as a unique venue for fans of art and live music. From folk to pop, rock to funk and hip hop, this central establishment also hosts standup comedy, poetry evenings and small theater productions.
Next door is the longstanding club Bootleg, which has a wide selection of international DJs keeping serious clubbers happy with techno and trance music and also organizes retro 80s music and other themed nights. One of the most lively and affordable nights out drinking in central Tel Aviv is at Beer Garden Dizengoff, considered a home away from home by many visitors.
Close to the iconic fountain in Dizengoff Square, the outdoor courtyard's central spot, international beers and warm welcome ensure you feel part of the family.
The Port

Continuing your journey down Dizengoff north towards the Tel Aviv port, you will enjoy designer stores, vegan restaurants and art galleries, soon reaching some classic bars, such as the fancy retro cocktail bar 223 Cocktail Bar, considered an authority on the art of cocktail making and serving up a swanky list of drinks.
Laid out on a wooden deck sprawling along the promenade, and filled with determined joggers, the Tel Aviv port itself is also buzzing with leisure, entertainment, shopping outlets and a Farmer's Market. As the daytime crowd retreats, the port is becoming one of the most popular drinking spots around with the hotspot Galina Dance Bar, whose main dance floor is inside the hangar while outside guests enjoy a cosmopolitan ambiance on a huge deck overlooking the Mediterranean.
This is Tel Aviv.