Dan Gourmet Culinary School
BY Dan Magazine DATE 12/03/2015
1 Comment
The Dan Gourmet culinary school is celebrating its first year, during which it has attracted cooking enthusiasts of all skill levels to a variety of gourmet courses and workshops.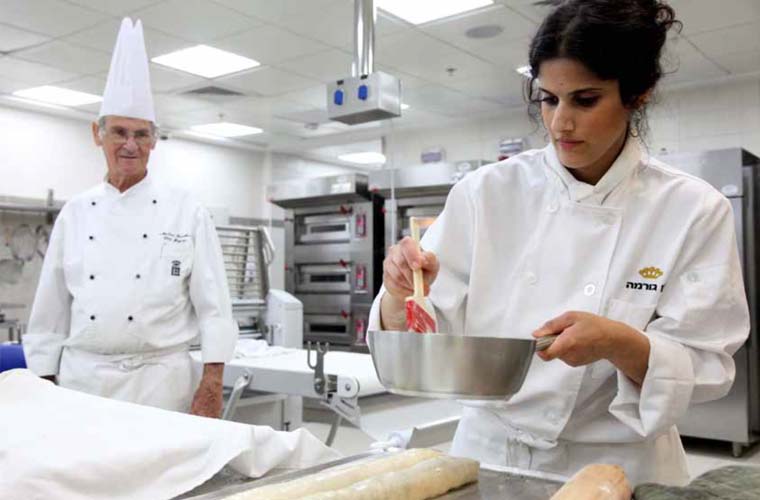 So what's on the menu?
Omer, an amateur chef and self-confessed carnivore, came to the Meat Challenge Workshop to learn some new roasting techniques. The workshop was so interesting that it stimulated his appetite for further studies, and he was soon attending the Charcuterie Workshop on smoking and preserving meat. Etti, a spry and youthful retiree, has always loved to bake. But she ventured out of her home kitchen, where she makes wonderful pastries, to attend Dan Gourmet's Pastry Workshop, expand her expertise in preparing petit fours and other desserts, and especially to enjoy all "the fun and enthusiasm". She completed the workshop with flying colors and is still at Dan Gourmet today, this time as a teacher for the Young Chef Workshop. Ora, an educator and Bible teacher by profession, comes to the Pastry Workshop after an exhausting day's work, but from the moment she gets to the school she's instantly "awash with new energy," she says. Ora is ready for a change, and hopes that the knowledge she acquires through the workshop will open the door to a new career.
In the year since its opening, Dan Gourmet has emerged as an initiative that is transforming the culture of culinary education in Israel, offering a range of popular, highly sought-after gourmet workshops for every type of cooking enthusiast: Meat Challenge, Far East Magic, Secrets of the Italian Kitchen, Sweet Breakfast Pastries, and many more. Hundreds of budding chefs have already flocked to the country's most sophisticated facility, and many have returned for a second helping, enthused after completing one workshop and eager to start another. "It's no accident," explains Nira Ramon, Dan Gourmet's manager. "Our students benefit from the best possible study conditions: well-equipped individual workstations, the highest quality ingredients, and the finest teachers and lecturers." Dan Gourmet's team of instructors includes, first and foremost, Chef Amir Ilan, the Dan Gourmet's Director of Culinary Education, pastry chef Maya Revivo, who heads the Pastry and Baking Department, and pastry chef Eran Shvartzbard, one of Israel's leading chefs.
What's Cooking at Dan Gourmet?
At Dan Gourmet, cooking together is the ideal environment for enthusiasts to cook up unique and creative ideas: junior chefs, for example, had great fun at the Young Chef Workshop during their summer vacation. This workshop was extremely successful and may become a regular, year-round event. Couples, friends, mothers and daughters find that a cooking workshop is not only a chance to demonstrate their skills, but also to improve their relationships. At unique singles' workshops, barriers are broken down in an easygoing atmosphere as the students get to know each other, and even discover, as the Hebrew saying goes, that every pot has its lid…But it's not just the amateurs who are drawn to Dan Gourmet – the pros love it too. Two new extended professional courses were launched this year at Dan Gourmet: the Professional Gourmet cooking course and the Professional Pastry Chef course in baking and pastry-making are Israel's most prestigious cooking courses and an excellent reason to give up traveling abroad for culinary studies.
Large organizations are also showing interest in Dan Gourmet: companies such as Osem, Unilever, and Tnuva have made the school their second home, and take advantage of Dan Gourmet's benefits for workshops, culinary instruction, and food product launches. Dan Gourmet has also developed special workshops for training, corporate teambuilding, and developing management skills, accompanied by a chef and corporate consultant. Group cooking creates and strengthens a sense of camaraderie, encouraging team members to think creatively and act according to the values the company wishes to instill in its employees.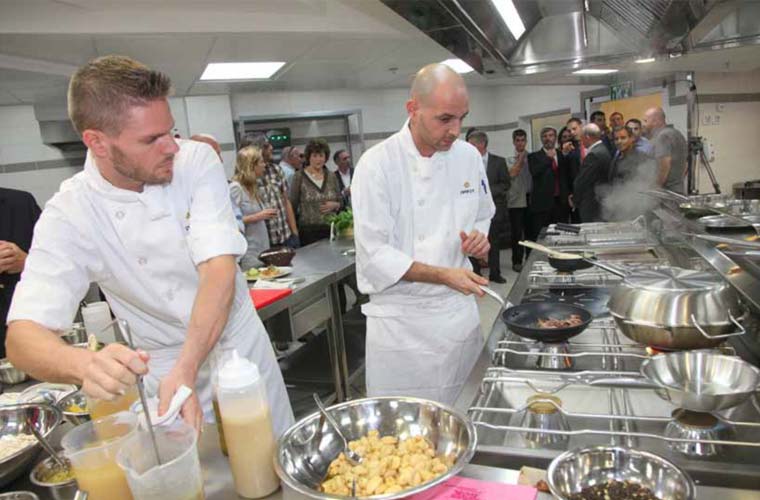 Dan Gourmet on Facebook
Join the Dan Gourmet Facebook page and receive updates on new workshops and courses.             You can also follow the school on Instagram – a whole variety of fabulous photos are waiting for you.