Dan hotels serve authentic Chinese food to the Chinese guests
BY Lee Saunders DATE 04/06/2017
1 Comment
To the ruler, the people are heaven; to the people, food is heaven
統治者,人民就是天堂,對人民來說,食物就是天堂
With a deeply entrenched passion for their food and culture, the Chinese have a striking ancient proverb that resonates in China: "To the ruler, the people are heaven; to the people, food is heaven." From breakfast to dinner, food is widely considered more than an earthly experience – one to share, to savor, and to love. It is a tradition that runs as long as the Great Wall of China itself.
While food is considered heaven, in Israel, the food is heavenly. There has been a relentless push by the Dan Hotels, as well as a number of top quality restaurants, to provide the most authentic Chinese food, to meet both Chinese standards and enjoyment and satisfy Israeli cravings.
After celebrating the Chinese New Year in February, the Dan Hotels again emphasized its catering offering to Chinese guests, as one of its Head Chefs shared an insightful training seminar with the hotel's other chefs on preparing and cooking the perfect Chinese breakfast.
"I love making Chinese food, it is a real challenge to be focused and sharp"
Head Chef at the Dan Accadia in the upmarket city of Herzliya, near Tel Aviv, said: "I love making Chinese food, it is a real challenge to be focused and sharp. It combines speed in preparation with the freshness of the products.
" With an appetite whet by his love of food tasting events and fantastic markets, Golan set to work, cooking up a warming congee, a watery rice gruel resembling porridge, which can be seasoned with everything from chicken to mushrooms. Accompanying congee are crullers, long twisted strips of dough, deep fried in oil, often served at street stands.
They are dipped in congee, as you would a Chanukah donut into a cup of coffee. A plate of mixed cooked vegetables and servings of jiaozi dumplings were created to perfection. "The raw ingredients are so readily available in Israel. The biggest obstacles tend to be keeping the same flavor when you turn something from non-kosher to kosher," he added.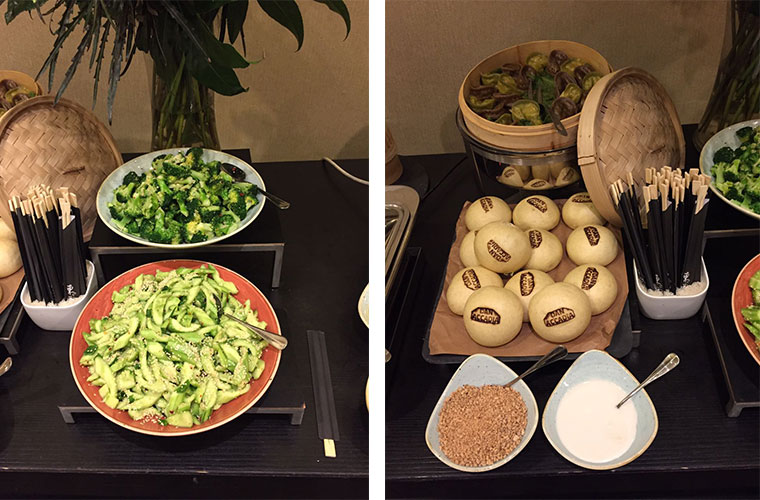 A professional chef for more than 20 years, Golan draws his inspiration from travelling round the world. His infectious enthusiasm for Chinese food grew further after he cooked at events last year in Beijing and Shanghai organized by the Israeli Embassy to honor Israel's Independence Day.
More recently, Rafi Baeri, Vice President of Sales and Marketing, and Roy Kriezman, Manager of China & Far East Markets, returned from visits to Qingdao, Shenzhen and Beijing, where they shared dinner with key Chinese tour operators at Art Zone, one of the capital's most renowned restaurants.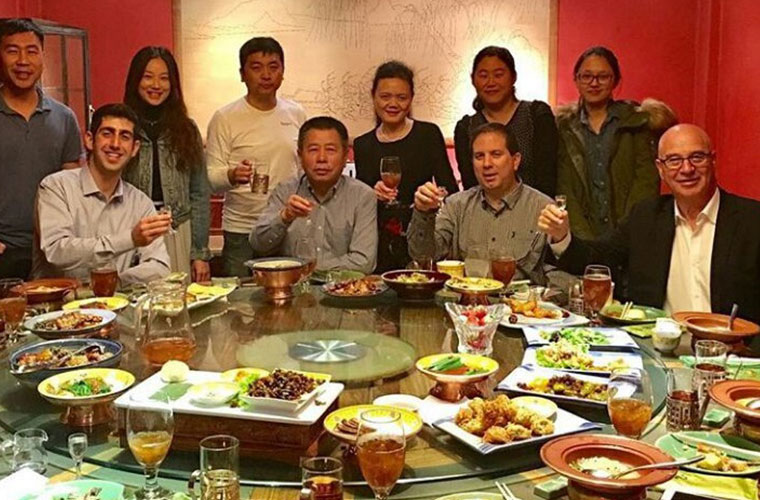 With the growing number of Chinese tourists to Israel, the Dan Hotels adds a "Chinese corner" to its hotel breakfasts to ensure that guests have that option first thing in the morning. It has gone down a treat with Chinese visitors, especially the older generations.
At the Government level, Israeli Prime Minister visited China with a 70-strong business delegation of his own. His March visit reflects the continued strengthening of bilateral ties relating to commerce, science, technology and tourism, at the forefront of which are the initiatives carried out by the Dan Hotels.
These business visits and culinary training have all been part of longstanding concerted efforts by Dan Hotels to cater to the needs of its rising number of guests from the Chinese mainland. A "Chinese corner" has been added to the Dan Hotels breakfast menu to ensure that guests have that option first thing. It has gone down a treat with Chinese visitors, especially with the older generations, who may not always be as bold as the younger Chinese when it comes to their palate.
Chinese restaurants among the best
While Golan and the other Dan Hotels chefs have risen to the top of their profession, a growing number of high quality Chinese restaurants have also sprung up around Israel, focused on the appearance and smell of the food, both considered vital to its taste and authenticity.
Among our own particular favorites, we love Tel Aviv's Furama (Ben Yehuda 7), which dishes up excellent and affordable Cantonese food, particularly colorful dim sums, comprising dumplings, rice noodle rolls, turnip cakes, and more, while Chinese-owned Hong Kong Dim Sum (Ben Yehuda 9) offers a superb alternative too, with incredible soup dumplings.
Chinese Wall (Mikveh Israel 26) is a popular kosher restaurant owned by Ya'acov Wang, a Chinese Jew, who has been running the restaurant with his brother-in-law for 20 years, serving up aromatic and mouthwatering dim sum, vegetarian and steamed rice dumplings and a raft of spicy dishes.
Check out our Hotels in tel aviv >>
In downtown Haifa, we recommend Yan Yan Chinese Restaurant (Derekh Yafo 26) for wonderful service and a tremendous variety of tasty meat and vegetarian platters. In Jerusalem, we like Mian Noodles (Solomon 22) for its family atmosphere and diversity of noodles and authentic noodle soups, while Sheyan (Ramban 8) is considered to be outstanding with many flavorful chicken and succulent noodle dishes.
Book your next vacation in Haifa with Dan Hotels >>
As more and more Chinese visitors flock to Israel, now taking advantage of direct flights, the continued push in Israel for high quality authentic Chinese cuisine is gathering pace, and it's a taste well worth sampling.