Top 10 hidden pleasures of Tel Aviv
BY Joel Haber DATE 25/06/2015
1 Comment
Many refer to Tel Aviv as Israel's "City that Never Sleeps," and as a Mediterranean beach city, Tel Aviv blends urban nightlife with stunning nature much in the same way that Barcelona, Dubrovnik or Nice do.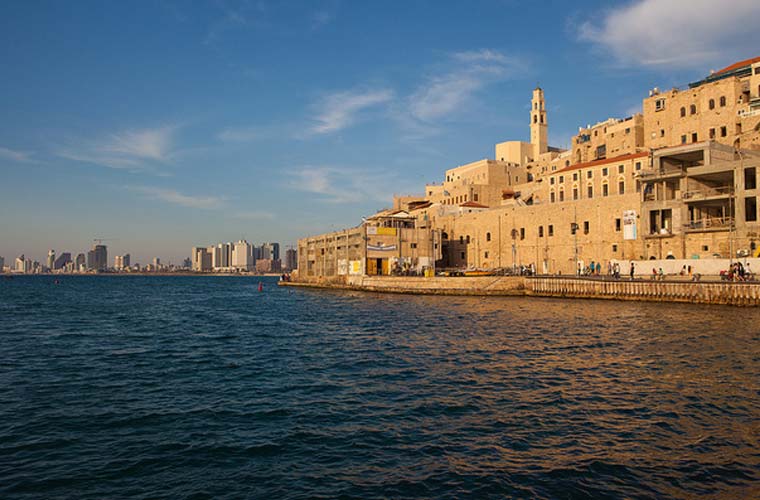 So what to do and see on your visit to Tel Aviv? Most people enjoy simply exploring the various neighborhoods of Tel Aviv, shopping or browsing in boutiques, eating in cafes and soaking up the sun-drenched local culture. Digging a little deeper, however, exposes some of the most important sites and activities that you need to explore to get a taste of all that Tel Aviv has to offer.
As a tour guide, here are my top 10 categories (in two posts) to focus your time in Tel Aviv:
Tel Aviv Neighborhoods
The modern city of Tel Aviv is only a drop over 100 years old, and has spread outwards from the old city of Jaffa in a patchwork of different neighborhoods. A walk through three of the earliest can give you a taste of the cross-section of groups that started the city.
Neve Zedek ("Oasis of Justice") was built close to Jaffa, alongside the tracks of the Jerusalem-Tel Aviv railroad. Many famous artists and writers lived there in the early years, and it is currently undergoing a process of gentrification, with renovations and (at times) repurposing of many historic buildings.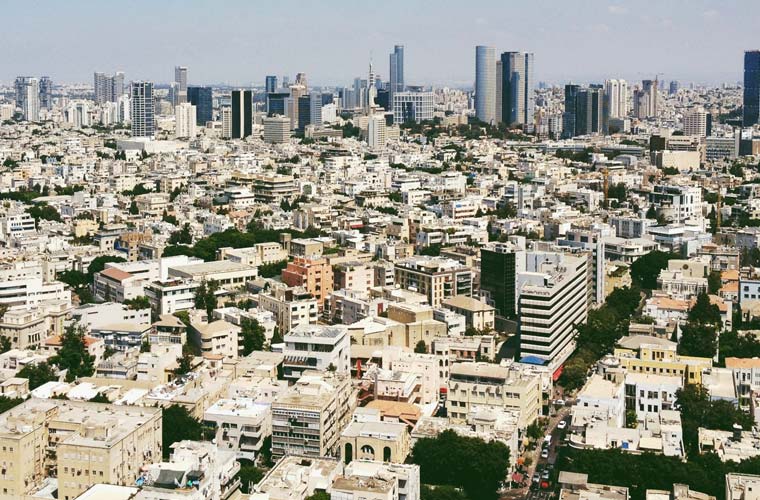 Click Here to view what hotels we have to offer in Tel Aviv
The area around Herzl St. and Rothschild Blvd. was once called Achuzat Bayit ("Homestead"). It was this neighborhood that literally grew into the municipality of Tel Aviv. Built as a planned neighborhood just east of Neve Zedek, a lottery was held on the empty sand dunes to determine which of the founders would get which plots of land. Though some of the original houses remain, the best place to learn about the early years is in the lobby of the Shalom Tower office building, on Herzl and Ahad Ha'am Streets. There you will find fascinating models and artistic renderings of the early years of Tel Aviv.
Kerem HaTeimanim ("The Yemenite Vineyard," more commonly called the Yemenite Quarter) sits a bit north of the above two neighborhoods. Fewer buildings there have been renovated to date, and some of the residents are descendants of the original settlers. The many ethnic restaurants lend a more authentic feel to the narrow streets.
Markets in Tel Aviv
As with most cities in Israel (and throughout the Middle East, for that matter), Tel Aviv is well known for its "shuks" or outdoor markets. The most famous shuk in Tel Aviv is the Carmel Market, along with its adjoining twice-weekly Nahalat Binyamin crafts fair.
But two other markets in Tel Aviv stand out, one for its culinary offerings and the other for entertainment value alone.
Levinsky Market is more a collection of stores than the traditionally constructed Carmel Market, but its culinary offerings eclipse those of Carmel. Traditional ethnic foods, of both high quality and wide diversity, make Levinsky the shuk for true foodies visiting Tel Aviv.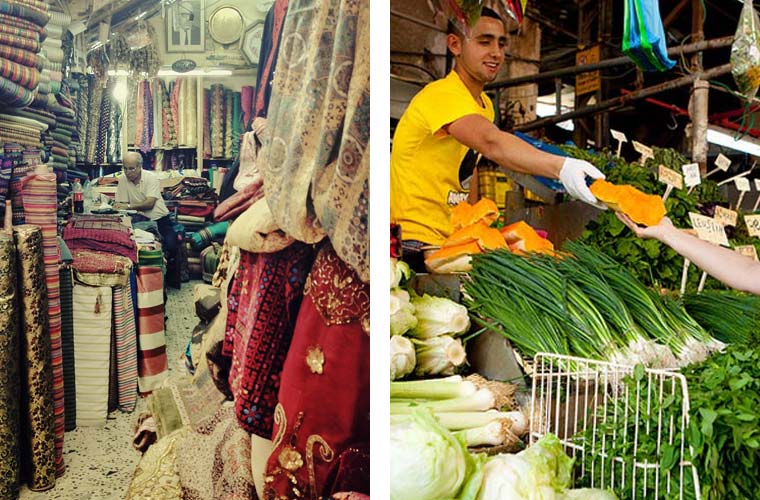 Meanwhile, if you want to visit a market that is both bizarre and hilarious, you must visit the Shuk HaPishpishim ("Flea Market"). Located near the Jaffa Clock Tower, and surrounded by slowly gentrifying streets, hip cafes and bars, and antique shops that are almost as aged as their wares, this market is undoubtedly unique. Vendors sell collections of second-hand (or let's be honest, probably fourth- or fifth-hand) goods of all kinds. But if you are an eagle-eyed shopper, you may come across an incredible "find" of a purchase. And if not, it will surely be a fun visit nonetheless.
Tel Aviv and the Outdoors
Tel Aviv is famous for its beaches, and of course any Tel Aviv stay is incomplete without a stroll along the promenade, or a relaxing few hours spent lying out in the sun. But there is more that one can do on the beach. Matkot is the peculiarly Israeli paddleball game that has no winner or loser. Volleyball is enthusiastically played on sandy courts, while water sports enthusiasts can enjoy the surfing and kayaking possibilities. And every Friday at sundown, a drum circle gathers to welcome the Sabbath in a uniquely Tel Avivian fashion. You'll find it at the oddly-named "Jerusalem Beach," towards the southern end of the city.
While a visit to the beach is the "obvious" choice for this section of the list, true Tel Avivians know that HaYarkon Park is the real gem for outdoor activities. Tel Aviv's version of Central Park, Hayarkon Park's namesake river flows slowly through the length of it. The park also features sports fields, paddle boats, bike paths, playgrounds, a rock garden, historic buildings, a climbing wall and so much more.
Tel Avivian Visual Arts
Tel Aviv's art scene is Israel's most vibrant. Visit the Tel Aviv Museum of Art to appreciate both its collection and the architecture of the building itself. Originally housed in the former home of Tel Aviv's first mayor, Meir Dizengoff, the museum moved to its current home in 1971. It is best known for its Israeli and contemporary art collections.
If, however, you are looking to make an Israeli art purchase, you should visit some of the many galleries scattered throughout the city. A nice concentration of them can be found in the area bounded by Ben Gurion, Dizengoff, Gordon and HaYarkon streets.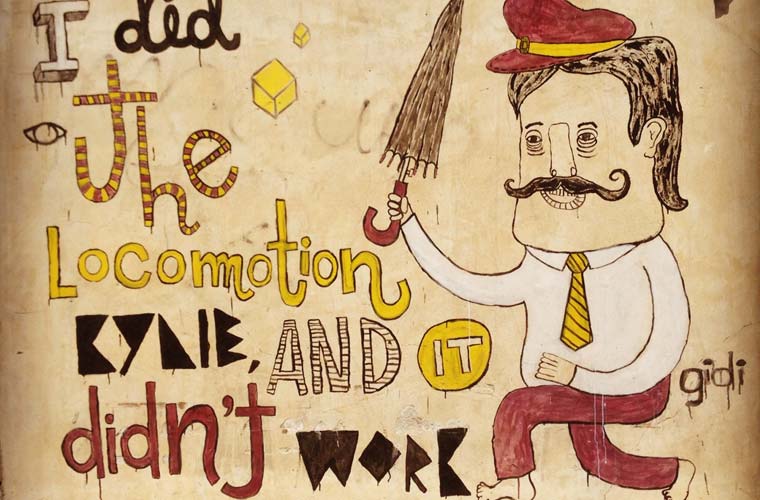 Tel Avivian Performing Arts
There are many small to medium clubs all over the city, where you can catch up-and-coming Israeli musicians. Tel Aviv also boasts a wonderful opera (housed next door to the Tel Aviv Museum of Art), top notch contemporary dance at the Suzanne Dellal Center and Habima – the Israeli national theater.
Two other performing arts venues, both located in Jaffa, stand out as even more distinctive experiences. Na Laga'at ("Please Touch") may be the only theater of its kind in the world – a company composed mostly of actors who are both deaf and blind (a few are only one or the other). Their original performance "Not By Bread Alone" uses theater to explore their personal inner world. Also on site is a remarkable culinary experience called "Blackout," in which your senses of taste and smell are enhanced by eating your meal in a pitch black room, served by blind waiters.
Also in Jaffa, visit the Mayumana theater. In some ways similar to "Stomp," Mayumana offers an enjoyable (if somewhat loud) theater experience incorporating audience participation and live music played by the actors. Mayumana has performed around the world, but Tel Aviv is its home – a home that is well worth visiting.
* * *
Check out Part two of this post for Five more categories of fun ideas for Tel Aviv to learn about Tel Aviv's excellent historical, culinary and shopping opportunities.