SUP – Israel`s Best Beach Attraction
BY Dan Magazine DATE 20/10/2015
1 Comment
SUP – the new water sports trend is a surfboard with a paddling oar that ensures a surfing experience in even the calmest seas. A short lesson and you're riding the wave…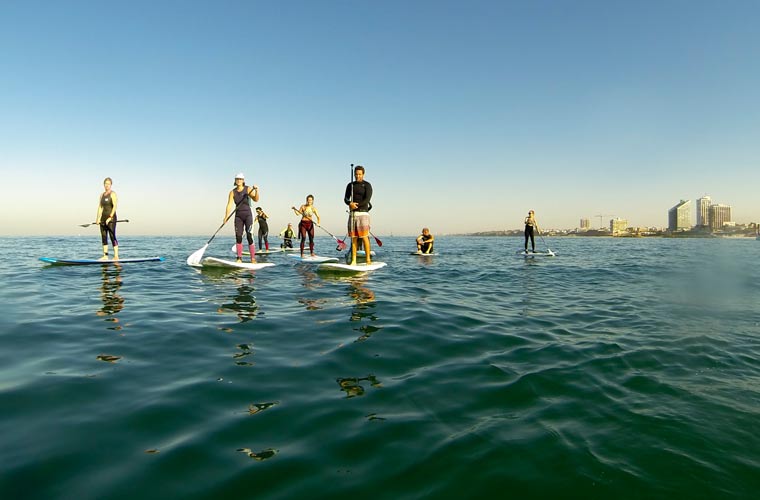 Up until a few years ago the sea surfing sport was reserved for experienced surfers who always won looks of envy and / or admiration from those lying on the beach. The revolution was brought about by one surfboard which abbreviated name is SUP and full name – STAND UP PADDLE BOARD. This is a large surfboard (larger than a standard surfboard), but lightweight, large in volume with good buoyancy which guarantees stability and instant success. Surfing is done by standing up on the board and using a paddle, so some call it "the lifeguard tool of the new mil-lennium." Anyone who gazes at the sea and dreams of surfing the SUP will definitely make your dream come true. Already after the first lesson you can enjoy surfing, even without prior experience or a spark for the sea, and the principle is simple: if you can stand – you can stand on a SUP.
Looking for a place to SUP in Israel? Check out Dan Accadia in Hertzliya – Its right on the beach
None of this would have happened if not for an initiative of a group of surfers from Hawaii, who developed the SUP surfboard. Inspired by an ancient surfing board that, in the past, served the Chief of the Polynesia Island, they took the board and added a contemporary touch thus creating this new trend and sweeping the field of water sports. All figures show that SUP surfing is considered as one of the world's most popular sports and its popularity is growing at a fantastic rate. It goes without saying that SUP is considered to be one the best rehab sports and requires practice and control of balance not to mention endless fun whilst effectively burning up energy invested in oaring. SUP is great for body and soul and provides a perfect cardio work out along with training and development of muscles, improved posture, strengthening bones, coordina-tion and flexibility.
Dr. Itai Ziv, an expert in physical training explains: "during SUP paddling the body uses over 100 muscles including the pecs, shoulder, upper and lower back, triceps, leg muscles, abs and more."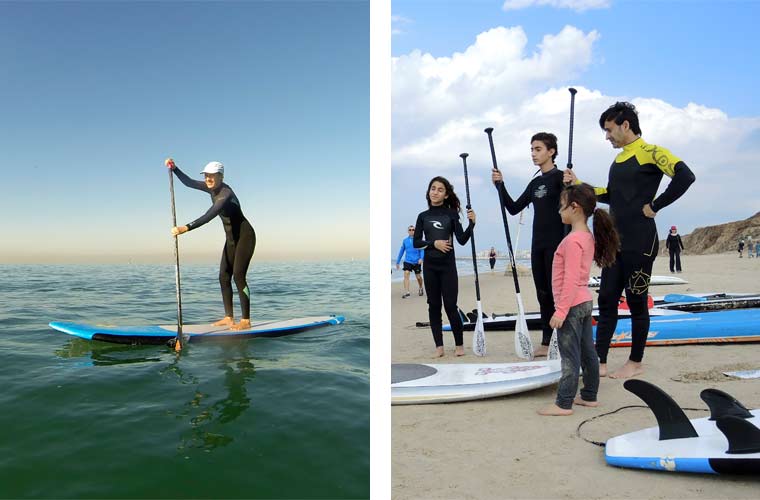 Success from coast to coast
The overwhelming success of the new board can be attributed primarily to the fact that almost anyone regardless of age, even if they have never set foot on a surfboard, can quickly stand on a SUP and paddle away. It's not surprising to see women and families with children amongst the newcomers and enthusiasts of this water sport, who wish to enjoy a less extreme watersport whilst experiencing the freedom and tranquility of the sea.
Surf clubs the country were quick to catch on to the new trend. One of the clubs, named iSUP is managed by Michal M. who has many years of experience as a surfing instructor and competitor. "My first encounter with the SUP created an instant and inevitable connection; I came, I paddled, I fell in love," says Michal, "For me paddling on a SUP isn't just pleasure or a sport , it's a lifestyle. Every day I am proud to help more and more people take their first steps on the SUP, which is the reason I started iSUP ".
The iSUP club conducts training activities in Tel Aviv and at Eilat's Coral Beach, and offers SUP courses at different levels: a beginner course that teaches how to get on the board correctly, balance and correct paddling techniques, Paddling group that teaches rowing styles, preparation for the waves, strength exercises, balance and stability and a SUP surfing course for beginners and advanced surfers.