Parks and Recreation
BY Lee Saunders DATE 17/08/2017
The smell of freshly cut grass, flowers swaying in the gentle breeze, barbecue smoke rising through the trees: These simple pleasures remind us all of simpler times, slower times, and inevitably mean one thing – parks. With so many around Israel to explore, we take a look at 10 of our favorite parks, forests and green spaces to relax and enjoy.
From old waste to new wonder – Ariel Sharon Park
Nothing highlights the resourcefulness in Israel more than Ariel Sharon Park. Once a monstrous garbage dump close to Ben Gurion airport, today, it is a stunning 2,000-acre park. The transformation has been one of the largest environmental rehabilitation projects in the world.
Bigger than New York's Central Park, the area is already an oasis for visitors, with hiking trails and bicycle paths, a small pond, zoo and picnic areas offering spectacular views. Committed to recycling, the park is paving the way for "greener-than-green parks." Even the visitor center, once a compost shed, uses recycled furniture made from tires, cans and bottles, while outside, water lilies grow in a mini-wetland that treats sewage and allows its re-use for irrigation.
Hayarkon – King of the Parks
While Ariel Sharon Park may be challenging for the crown, the "King of Parks" title still arguably rests with Hayarkon Park. A short distance from the Dan Tel Aviv and Dan Panorama Tel Aviv, the city's huge urban park attracts more than 16 million visitors annually, who come to relax on the groomed lawns, enjoy picnics, or party with the many global bands performing live concerts to the masses.
Open since 1973, the park comprises six different gardens, (or 'gans'), including one of the largest rock gardens in the world, with more than 3,500 species of plants, and a tropical garden, home to swans, fish and an array of orchids. And the Yarkon River is not the only sight to run through the park. Countless joggers, runners, Tai Chi fanatics, rock wall climbers, and yoga-lovers can enjoy the sports facilities and are as visible as the wildlife in the park's zoo and aviary.
Ben Shemen Forest – Israel's 'Green Lung'
The Ben Shemen Forest is considered the largest 'green lung' in central Israel and was the first initiative to create a forest in the State of Israel. Bought over 100 years ago, 100 dunams of the land was set aside for a factory for producing oil, from which the forest gets its name ('shemen').
After a rollercoaster history, the forest today stands on more than 5,500 acres, and plays host to visitors who enjoy walking or hiking among the wildflowers to sample many charming recreational areas and marvel at archaeological sites. Join thousands of people on Yom Ha'atzmaut there to eat at many of the picnic sites and watch storks swoop to look for food in the nearby fields.
Herzliya Park – a Precious Day Out
Letting the children roam free in Herzliya Park is one of the most precious sights of the summer. Situated in the heart of Herzliya, a city north of Tel Aviv, this park offers adults the chance to relax, unwind and drink coffee by the impressive duck pond, while children push themselves nearby on huge slides and rope bridges, practice their tricks on wheels in the skateboard park or the roller skating rink.
Hosting free summer concerts near the pond, Herzliya Park also has a 1.2 km biking path, a 1km path for runners, and is as enjoyable and soothing for the soul as the nearby Dan Accadia, just a stone's throw away.
Mount Carmel National Park – Towers over the Mediterranean
Israel's largest national park is Mount Carmel National Park. Recognized in 1996 by UNESCO as a biosphere reserve, the park stretches over the Carmel mountain range, which towers over the country's Mediterranean Coast, including the luxurious mountain-topped Dan Carmel Haifa.
Containing 10,000 hectares of pine, eucalyptus and cypress forest, this national park has dedicated nature reserves, near biking and walking paths, scenic hiking trails and more than 250 archaeological sites inhabited by prehistoric humans.
Visit more of our hotels in Haifa >> 
Within the park, there is the Carmel Hai-Bar Nature Reserve, which breeds endangered animals, such as mountain gazelles and griffon vultures, for possible reintroduction into the Mediterranean forests of northern Israel.
Ashkelon National Park – An Archaeological Wonder
In southern Israel, a few hours down the Mediterranean coast from Haifa, is the ancient city of Ashkelon, whose Ashkelon National Park is a fascinating coastal site of antiquities in the heart of nature, and with access to a beach.
It proudly displays archaeological remains linking the city to a chequered past, to the many rulers and civilizations that lived here, including the Canaanites, Philistines, Persians, Phoenicians, Greeks, Romans, Byzantines, and many others.
Today, visitors enjoy afternoon picnics and barbecues, or camp overnight on certain weekends to take advantage of special stargazing tours, wondering what stories are hidden within the Roman marble and granite columns nearby.
Gethsamene – a park for contemplation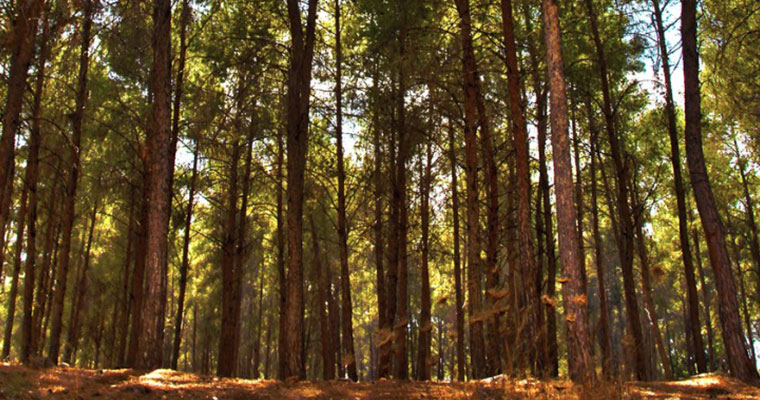 There are plenty of stories associated with the Garden of Gethsamene, located outside the walls of Jerusalem, at the foot of the Mount of Olives, and not far from The King David. Renowned for its ancient olive trees, this beautiful garden is closely linked to the New Testament, and believed to be where Jesus enjoyed prayer and contemplation.
Check out all of Dan hotels in Jerusalem >> 
One of the olive trees – protected in a metal cage – apparently dates back to the time of Christ. Of many parks in Israel, this wooded spiritual space is among the most popular for meditation and contemplation, while many people come to relax at the popular Teddy Park, open to the public since 2013 and named after Jerusalem's longest serving mayor, Teddy Kollek.
Hamoshava Park – The Heart of Wine Country
Sandwiched between Tel Aviv and Haifa is Zichron Ya'acov, one of the earliest established towns. This gorgeous picturesque town is home to the 10-acre Hamoshava Park, or Park of the Senses, which celebrates its fourth birthday this August.
The park entertains young kids, older kids and grown-up kids with a large selection of fountains, jungle gyms, and slides while picnic areas for post-activity dining are conveniently located. Close to the Carmel Wineries, for which this region is known, the park is the perfect tonic for visitors and locals to rest and relax in the heart of an agricultural region blessed with remarkable beauty.
Ra'anana Park – One of Israel's Hidden Gems
One of Israel's best kept secrets is Ra'anana Park. Located in central Israel, this park often is overshadowed by the large parks on the coast, but deserves to be appreciated in its own right. With more than 600 ornamental and fruit trees planted throughout the park and a swan lake shaped like a clover in the center, visitors can choose to relax among nature or chill on a solar-powered boat or gondola.
You can leisurely stroll through the Seven Species biblical garden containing more than 100 types of animals, or work up a sweat playing soccer, basketball, hockey and roller skating. While it is far smaller than Tel Aviv's Hayarkon, Ra'anana Park has an intimate amphitheatre that has hosted cultural and musical events, including concerts from the Backstreet Boys, Beach Boys' Brian Wilson, and Alice Cooper in recent years.
Gan B'Ivrit – For Our Inner Child
And last, but not least, we recommend Gan B'Ivrit, or Garden of Hebrew, in Rishon LeZion, a fast-growing modern metropolis, close to Tel Aviv. While the lush green park contains the fitness facilities, sports fields, and picnic areas that you may expect, it is particularly unusual for the range of games dedicated to the Hebrew language.
Like plants, languages grow and evolve over time, and throughout the park, there are activities to appreciate the role of language – from the special "maze of words," to "letter fountains," and various educational puzzles.
Whether to engage your mind or relax your body, whether to appreciate the old or value the new, or whether you are headed north or travelling south, make sure, while on vacation in Israel, that you find time to unwind, time to slow down, and time to return to the simple things.