Beit Guvrin-Maresha
BY Joel Haber DATE 14/03/2015
2 Comments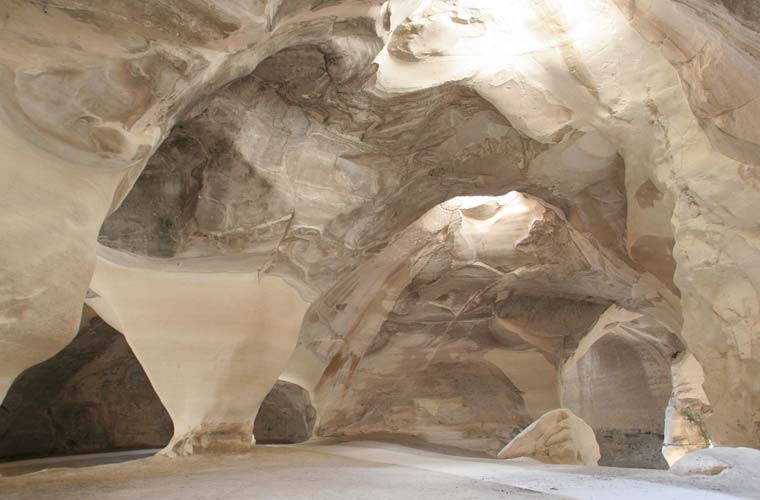 Israel's newest addition to the list of UNESCO World Heritage Sites is a national treasure, much better known to Israeli locals than to foreign tourists. Equidistant from both Tel Aviv and Jerusalem, Beit Guvrin-Maresha National Park  features magnificent and interesting archaeology from the Biblical era through Crusader times.
Added in 2014 to UNESCO's World Heritage List, the thousands of caves throughout the park's 1250 acres of land served multiple purposes throughout history. The local bedrock is made up of two different kinds of limestone: a hard, thin crust known locally as nari, and a thicker layer beneath it of a soft, chalky stone. For millennia, locals chiseled small holes through the nari to reach the softer layer, from which they quarried building blocks which would later harden once exposed to the elements.
During the Hellenistic period, these caves entered secondary usage, encompassing the industry of the sprawling city of Maresha. Caves connected into subterranean systems beneath the city's numerous villas started to be used as columbaria (dovecotes), industrial-size olive oil presses, private baths, water cisterns and storage areas. Pagan cultic sites also featured prominently in this "city beneath a city."
Some caves from this period were also used for family burial tombs, the most impressive of which are a pair of painted caves that blend burial customs of Judeans, Egyptians and Greeks. Additionally, the names of those buried in these caves (the only of their kind ever found in Israel) show mixes of Greek, Idumean and Phoenician origins. All of this underscores how Maresha grew into a truly multicultural and cosmopolitan city during this time period.
The Bell Caves
Still, the highlight of a visit for many tourists are the magnificent, gargantuan "bell caves" located closer to the park entrance. Dug purely as stone quarries and never put into secondary usage, these magnificent and colorful caves were primarily created during the early Arab period, preceding the Crusader era here. Equally picturesque and impressive, these caves were even featured as a filming location in the 1988 movie Rambo III.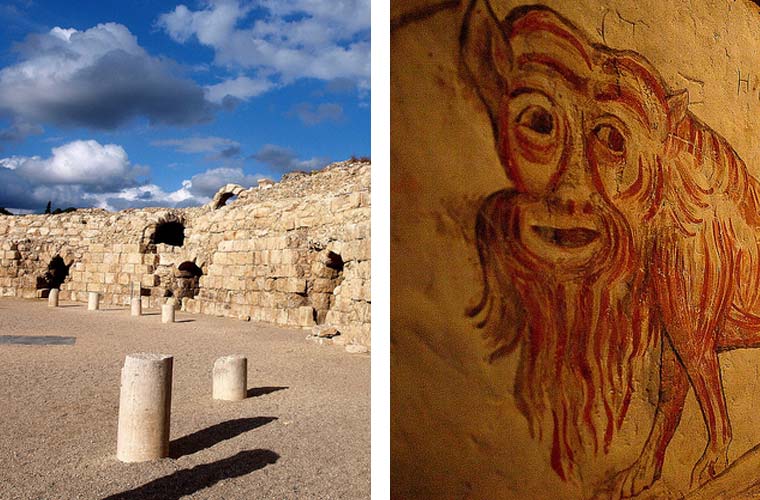 The national park's name is long and unwieldy because the park actually incorporates two distinct sites. Maresha was the city from Biblical times (first mentioned in the book of Joshua, and later listed as fortified by Solomon's son Rehoboam), changing cultures to primarily Idumean following the Babylonian exile of the Judeans (586 BCE), and reaching its peak as a mixed-population city during the 2nd Century BCE.
But following Maresha's destruction in the late 2nd Century BCE, it was later replaced by a new city nearby during the early Roman period here (1st Century CE). Though less excavated than Maresha, Roman Beit Guvrin (later renamed Eleutheropolis – City of Free Men) features some other impressive remains. Among other things, Beit Guvrin features a full amphitheatre used for gladiatorial contests, complete with subterranean tunnels through which wild animals could be transported to the fighting floor. To date, it is the only one of its kind to have been excavated in Israel.
During the Crusader period, part of the Roman city was turned into a fortress, which included a large church (one third of which is still highly preserved). Closer to the Maresha section of the park, the apse of a separate Crusader church stands alone on a hilltop. Built on the remains of a Byzantine era church, it was referred to by the local Arabs as the ruins of "Sandahanna," recalling its early name, The Church of St. Anne.
For the adventurous tourist who wants to do more than simply visit this unique national park, an organization called Archaeological Seminars offers a special opportunity participate in a genuine archaeological excavation in the park. The family-friendly "Dig for a Day" project brings groups of tourists into cave systems at Maresha to continue emptying them while also uncovering potsherds, glass, metal, animal bones, coins and other artifacts from the city's heyday.
The program lasts 3 hours, and offers a window onto the archaeological process for participants who need no prior archaeological experience. It is one of the more memorable highlights of an Israel trip for all who participate in it.
Check out all Dan Hotels in Israel >>