Dan Hotels Celebrate the French Culinary Week
BY Lee Saunders DATE 23/03/2017

"In France, cooking is a serious art form and a national sport," remarked the late American chef Julia Child. "You can talk with a concierge or police officer about food in France, as a general rule," she added.
And Israel, this week, was all abuzz as French Culinary Week came to visit, for the fifth year, bringing 22 award-winning Michelin chefs, to partner with their Israeli counterparts, the crème de la crème, in Jerusalem, Tel Aviv, Be'er Sheva, Tiberias, Haifa and Akko.
For the last three years, Dan Hotels has been working with French Culinary Week, which has provided a mouthwatering opportunity to renew the common links between Israel and France and highlight their insatiable love of food, sharing flavors and cooking styles.
We caught up with the Executive Chef at the iconic King David Hotel in Jerusalem, David (Dudu) Biton, as he prepared to collaborate with award-winning chef Frédéric Simonin at the hotel's exclusive La Régence restaurant, a major landmark on Jerusalem's fine dining landscape.
Come visit more of Dan hotels in Jerusalem >> 
"Both are extremely generous and really love to share their love and enjoyment of food – it is a very cultural experience."
"There are similarities and differences between French and Israeli culinary styles," explains Dudu. "Both are extremely generous and really love to share their love and enjoyment of food – it is a very cultural experience." "Israeli cooking today is very fresh, very local, and Mediterranean, while French cuisine tends to have a heavier, stronger taste. That is part of what made this such as interesting experience and an excellent collaboration," added Dudu.
A wealth of experience and a raft of sumptuous dishes have become the hallmark of Jerusalem-native Dudu Biton, who has forged a towering reputation as one of the industry's best chefs. More than two decades earlier, it was a different story. "My grandparents came from Greece and Morocco so food was always important in our family but nobody was a real cook, as such. I began to learn to cook when I was 15 after my uncle helped find me a job in a hotel. I hated it at first, the pressure, the incredibly hard work, but after six months or so, I remember making really excellent rice and I was soon hooked."
While Dudu's achievements were initially largely self-taught, his French counterpart Frédéric Simonin trained and learned from the pioneer of haute cuisine, Joël Robuchon. Today, a string of awards, including his first Michelin star at just 27 years old, and his own restaurant in Paris' upmarket 17th arrondissement have rightfully catapulted him into the culinary spotlight.

Michelin-star Frédéric Simonin, Executive Chef Dudu Biton and Food and Beverage Manager Elie Fischer at the King David for 'So French So Food,' French Culinary Week.
Quickly, both chefs discovered much in common. "We felt an immediate alchemy really, we both have similar personalities and you can see that by the way we both manage the kitchen. We both love the product more than anything and agree that quality is everything," said Dudu. Frédéric concurred: "We have the same passion and want to highlight the taste and only the taste. We want a lot of flavors. We both like to use the right technique for the right product."
Specialist gourmet from the region of Alsace
This year, the focus was on the specialist gourmet from the region of Alsace, in Eastern France, on the border with Germany and Switzerland. The challenge was to combine and adapt Alsace's modern, authentic and distinct cuisine with Israeli products to create an exciting and innovative menu for guests.
"The collaboration went smoothly and naturally as if we had worked together before," described Frédéric. Both chefs planned and adapted to the availability of ingredients and the laws of kashrut to produce a true chef's menu. "I have already cooked kosher cuisine in Paris so there were no big surprises and Israel has enough wonderful products for me to enjoy 100%," he added.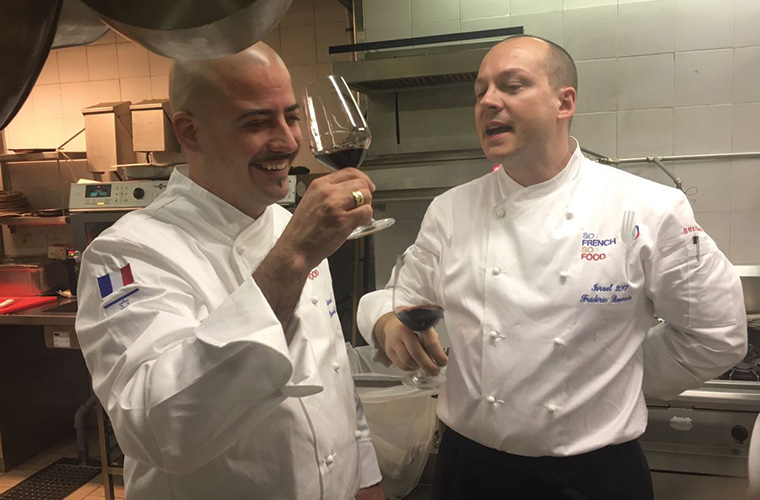 Israeli French alchemy
Accompanied with Gewurztraminer and Riesling wines from the Alsace region, the results were a masterpiece. Each evening, for three nights, a six-course menu provided diners with a taste, a snapshot of authentic Alsace cuisine in Israeli style.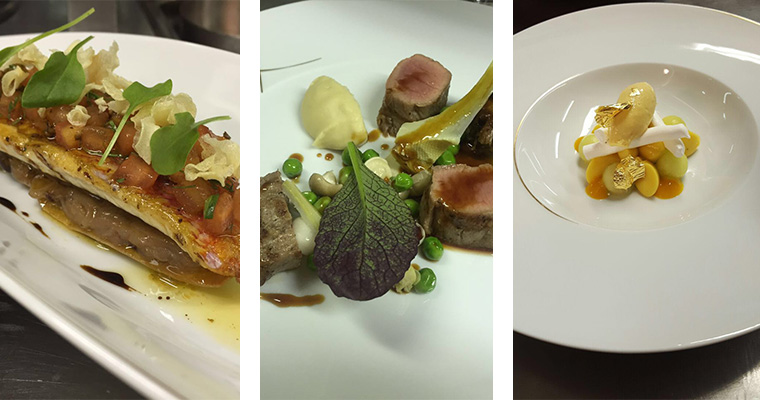 There was tuna tartare with roasted tomato, Basque-style egg, topped with black garlic powder and red mullet, pissaladiere, with garlic flakes and drizzled in citrus vierge sauce. For mains, there was roasted duck, soft turnip and foie gras, and lamb sirloin sizzled to perfection on a charcoal grill, accompanied by shallot with lamb neck stuffing, fava beans and celeriac. Afterwards, a mango, meringue shell oriental sorbet or a chocolate pecan and olive oil desert kept guests brimming with satisfaction.
Collaboration with Yonatan Roshfeld

It was the latest successful culinary collaboration for Dudu Biton, who recently served up a six-course tasting treat with Yonatan Roshfeld, one of Israel's most well-known and successful chefs and, more recently, a judge on the MasterChef Israel. Yonatan and Dudu, whose signature dishes include the much-loved tomato leather filled with sea fish salad, pooled their talents and culinary vision to create spectacular dishes.
Such tantalizing dishes underline how cooking and eating remain as much a national passion and pastime in Israel as they do in France, cementing Israel's reputation as a must-visit destination for foodies everywhere.